8th International Symposium on Fusion of Science and Technology (ISFT-2020) : Call for Papers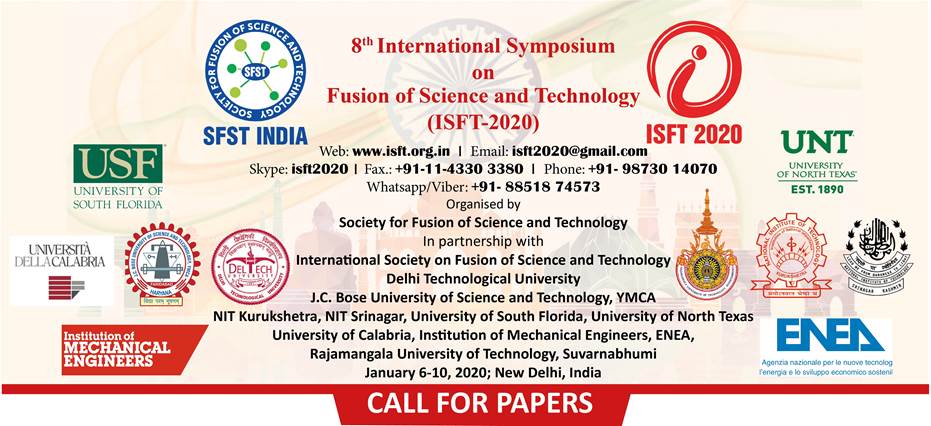 Dear Sir/Madam,
Greetings from Organizing Committee of ISFT-2020.
The Society for Fusion of Science & Technology (SFST-India) is organizing 8th International Symposium on Fusion of Science and Technology (ISFT-2020) in partnership with Delhi Technological University, J.C. Bose University of Science and Technology, YMCA , NIT Kurukshetra, University of North Texas, University of Calabria, ENEA, Institution of Mechanical Engineers, Rajamangala University of Technology Suvarnabhumi and other premier institutions. The conference is aimed at promoting synergetic partnership between academia, research institutions and industry and also to showcase the growth of cutting edge technology developed in recent past.
ISFT-2020 invites original research articles/review papers from students, academicians and industry professionals in Engineering, Science, Technology, Social Science & Management. The research articles/ review papers should be made as per the conference template and submitted online at www.isft.org.in. Please download the general guidelines for the preparation of manuscript. The authors shall receive the Paper Id after the submission which should be quoted by them in any further correspondence. The papers submitted to the ISFT 2020 should not have been presented/ published in any journal or Conference.
Please download the Conference Brochure for further details.
All full paper submissions will be peer reviewed and evaluated based on originality, technical and/or research content/depth, correctness, relevance to conference, contributions, and readability. For any query regarding submission of the manuscript, you may kindly contact atisft2020@gmail.com or Call/WhatsApp +91-8851874573.
*Please watch the ISFT-2020 video to get better insights :- https://youtu.be/fWQh32Xan0o
IMPORTANT DATES :
Last date of Submission of Full-Length Papers………………….June 30, 2019
Notification of Selection of Full-Length Papers.............................September 15, 2019
Submission of Full-Length Papers (Camera Ready)………..........November 15, 2019
The abstract of all accepted research papers shall be published in Book of Abstract. Selected papers will be published in the Scopus / ESCI Indexed Journals /Conference Series after peer review.
A complimentary trip to the historical monuments of Agra (Including Taj Mahal) and Delhi will be arranged for all the foreign delegates and keynote speakers.
Click here to submit your draft paper.
We look forward to welcoming you and thank you for your kind consideration.
With Kind Regards,
Dr. H.S. Pali || Organizing Secretary