Webinar by UR and CN : Making Learning Interactive and Engaging through Gamification Features on CN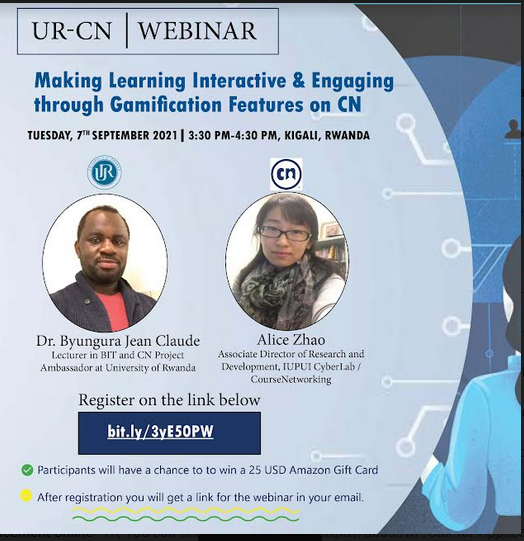 Webinar by UR and CN : Making Learning Interactive and Engaging through Gamification Features on CN
Want to learn how to better engage students in online learning ? This webinar will introduce applicable tools and techniques. CourseNetworking or CN (thecn.com) is a next-generation, social learning platform that is currently available to all UR instructors and students. On CN, instructors can use the gamified learning features, Anar Seeds, incentive badges, and a leaderboard to motivate students and monitor participation and engagement. This webinar will show you how to use these gamification features and other related social learning features on the CN platform. After the training, you will be able to open up your course on CN and build an engaging learning community for your class !
This webinar is open to all UR instructors. The attendees who complete a post-webinar survey will receive a training completion certificate with the signature of the university DVC-IA. Instructors who actively implemented the introduced gamification features in a CN course will be qualified to participate in a study and have a chance to receive a $25 Amazon e-gift card.
Date : September 7th (Tuesday), 2021
Time : 3:30-4:30pm
Speakers : Ms Alice Zhao and Dr. Jean Claude Byungura
Registration :
Please use the link below to register for this webinar. After registering, you will receive a confirmation email with a uniquely generated link for you to enter the webinar room on August 31st. We recommend that you add the event and the access link to your calendar.
You will receive a reminder email one day and one hour prior to the webinar as well.
https://iu.zoom.us/webinar/register/WN_gQwQ5ek9Q_KvpFTVeuetPw