On 2nd October 2019, the African Centre of Excellence for Innovative Teaching and Learning Mathematics and Science (ACEITLMS) received the third cohort of 10 regional PhD students. The event was organised to introduce them to the Centre, networking and sharing experience with ongoing PhD students.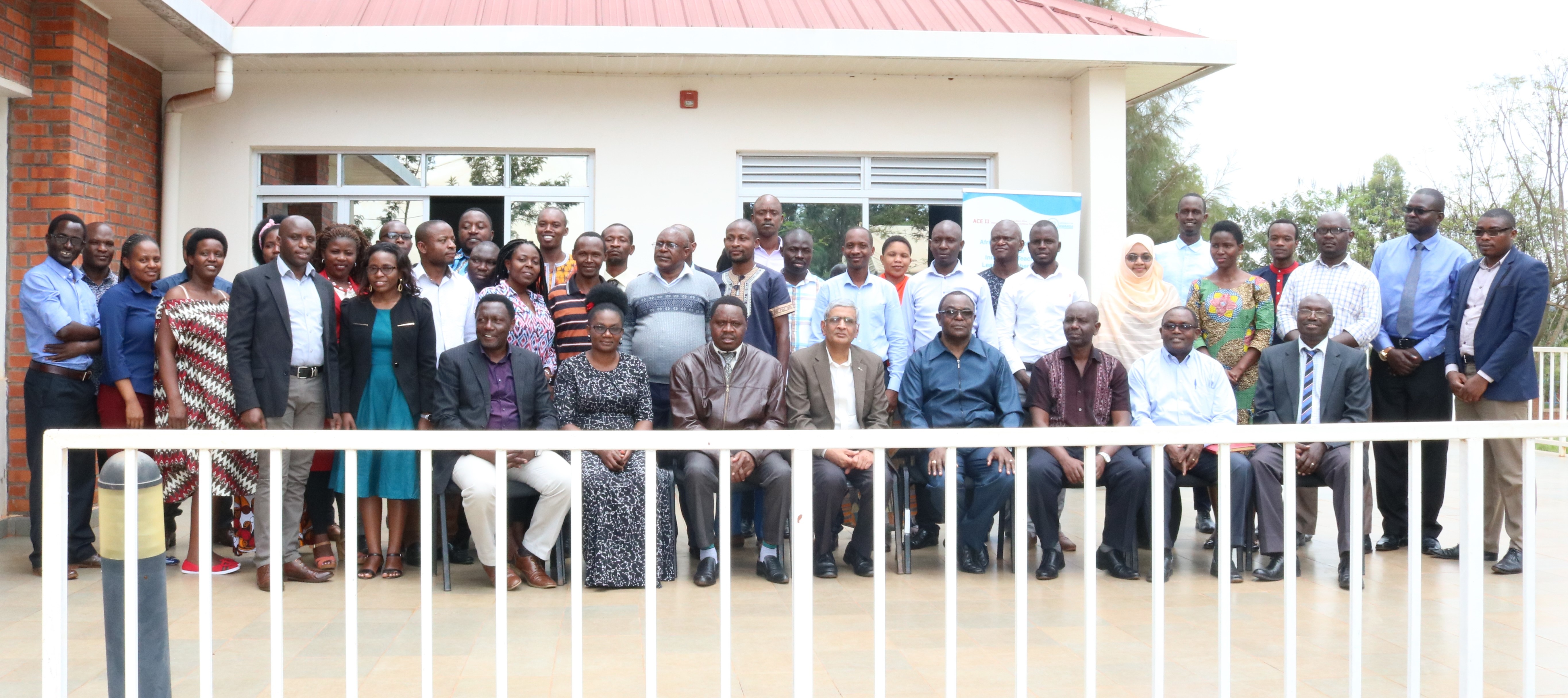 New and ongoing PhD students in a group photo with the ACEITLMS team
The event was graced by the Principal of the University of Rwanda's College of Education Prof. George Njoroge, ACEITLMS management PhD students for the first and second cohorts and their assigned supervisors.
During this event, new PhD students were taken through different programs offered at the Center, procedures and practices that they will pass through to get their PhD Degree.
In his presentation Dr. Florien Nsanganwimana, the Head of Research at the Centre urged new students to stay focused and come up with new strategies to use in the upcoming course work that is awaiting them.
"When you start thinking of this journey, you think it is a well paved way…yet there are some obstacles you are likely to face ; don't give up, stay focused" said Nsanganwimana, adding that the Centre will avail any needed support.
In his keynote, the Principal of the College of Education also hosting the Centre, Prof George Njoroge highlighted the role of education in addressing all types of challenges that the country faces. He highlighted that there is a need to have professional skilled teachers.
Prof George Njoroge addressing participants
"We won't have qualified doctors in energy, agriculture… if we don't have well qualified and committed professionals in education", he noted.
Advising them on the choice of the research project, Prof. Njoroge urged students to ensure that their research projects can solve existing problems.
"You just don't simulate a problem If you do so then you will not find the right answer", he advised.
During this academic year (2019-2020) 10 PhD students from Rwanda and the region were admitted joining 28 admitted in two previous rounds.
Story by Jean Damascène NIYITEGEKA
Communication & Marketing Specialist UR-SPIU