Mr. Theogene Rizinde is a PhD student in Data Science (Biostatistics) at the African Center of Excellence in Data Science,University of Rwanda. Mr. Theogene has won Excellent Research Grant of 43,666,000 FRW provided by the National Council for Science and Technology (NCST).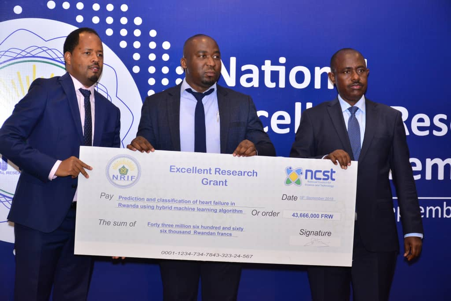 Research project of Mr. Theogene is entitled "Prediction and Classification of Heart Failure (HF) in Rwanda using Hybrid Machine Learning Algorithm". Mr. Theogene was motivated by the fact that Heart Failure (HF) has become a major concern among medical professionals for both developed and developing countries, especially when it comes to earlier and accurate detection of heart failure (HF) in a patient.
Mr. Theogene believes that Medical doctors need a supporting mechanism to help them predict and classify HF with relatively high accuracy, and therefore save the lives of millions of people.
"This research will help to get clear picture of the trend, distribution, determinants of heart failure (HF) and its associated socio-economic impact in Rwanda", Rizinde said.
At the end of the research, Mr. Theogene says, he will come up with a model score to provide accurate prediction of heart failure. He added that the built model will be used by Rwandan clinicians to make better decision about right treatment procedures or preventive actions that reduce risk of heart failure in Rwanda.
Mr. Theogene's project is one of 11 projects that won the grant worth Rwf550 million which was issued by NCST.