The University of Rwanda received a high level delegation from Kent State University (KSU) on a visit to the country. The trip is in the spirit of existing collaboration between UR and KSU in intercultural and academic exchange through mobility and joint research, among other areas. Over 10 days, the delegation visited other Government institutions, including the Ministry of Education and the Ministry of ICT and Innovation, for strategic engagements with senior officials.
The University Vice Chancellor, Prof Alexandre Lyambabaje who received KSU delegation, believes that the collaboration would touch on areas such as academic program review which the university has embarked on very recently. According to him, this would allow UR to deliver its courses through competence based Education pedagogy. He also expressed among others, the University ambition to boost eLearning by acquiring resources such as smart classrooms, computers and others that can serve for online teaching and learning.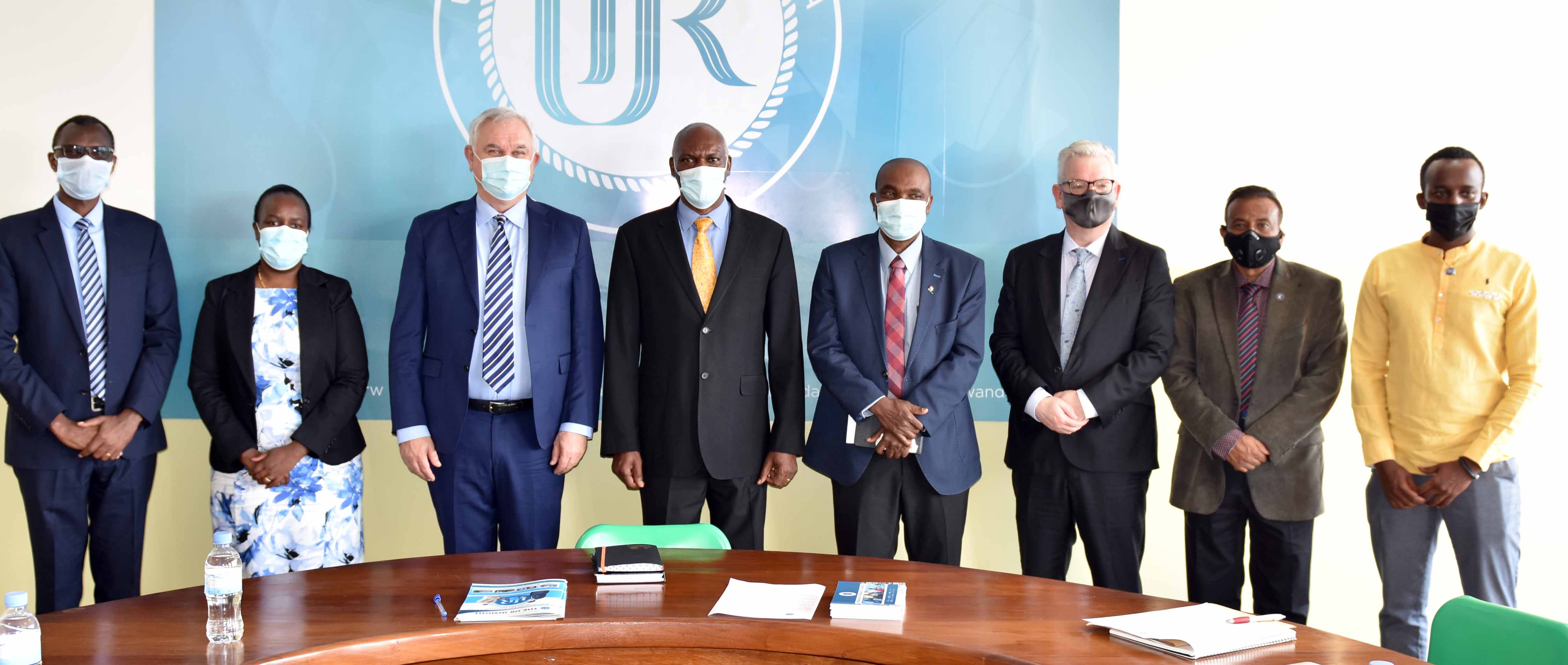 KSU delegation and UR officials pose for a group photo
Dr Marcello Fantoni, the Associate Provost for Global Education and a Professor of the History of Architecture at KSU leads the five-person delegation. Three other professors make part of his entourage. At the University of Rwanda, the team explored the possibility of establishing a centre to facilitate different programs, including study abroad programs, virtual meetings with faculty in similar programs, and virtual guest lecture exchanges. Also expected from the visit is to explore how KSU can contribute towards the UR academic programs review and vice versa. Students and staff exchange for both academic and cultural purposes, as well as joint research and publications is another item on the agenda.
In addition, the two parties discussed the national digital skill competence development ; a project that seeks to make universities in Africa hubs of major investment for World Bank. This is an active initiative led by the Partnership of skills in Applied Sciences, Engineering and Technology (PASET) forum of African leaders to prepare the economies for the unfolding 4th industrial revolution. The program is led by Dr. Khan Javed, also part of the delegation and envisions many sub-components which range from establishing ultra-high-speed digital connectivity/networks to deploying The Computer Science for All, an initiative offering a number of programs focused on helping schools to expand computer science programs.
"Rwanda is an excellent place to lead a number of components in this national digital skill development plan as well as play role at continental level," Dr. Javed reckons.
The discussion touched on opportunities around the development of new programs at UR that are already offered in KSU. For instance, the University of Rwanda is keen to develop aerospace and artificial intelligence programs. The move would be much easier since Kent State boasts the best aerospace engineering (undergraduate and graduate level) and airports management.
The Collaboration also seeks to boost cultural interconnection, sports to peace building studies. In view of the fact the University has a Centre for Conflict Management established in a country that overcame the adversity of Genocide less than three decades ago, UR has a lot to offer in terms of genocide prevention, peace, reconciliation and justice.