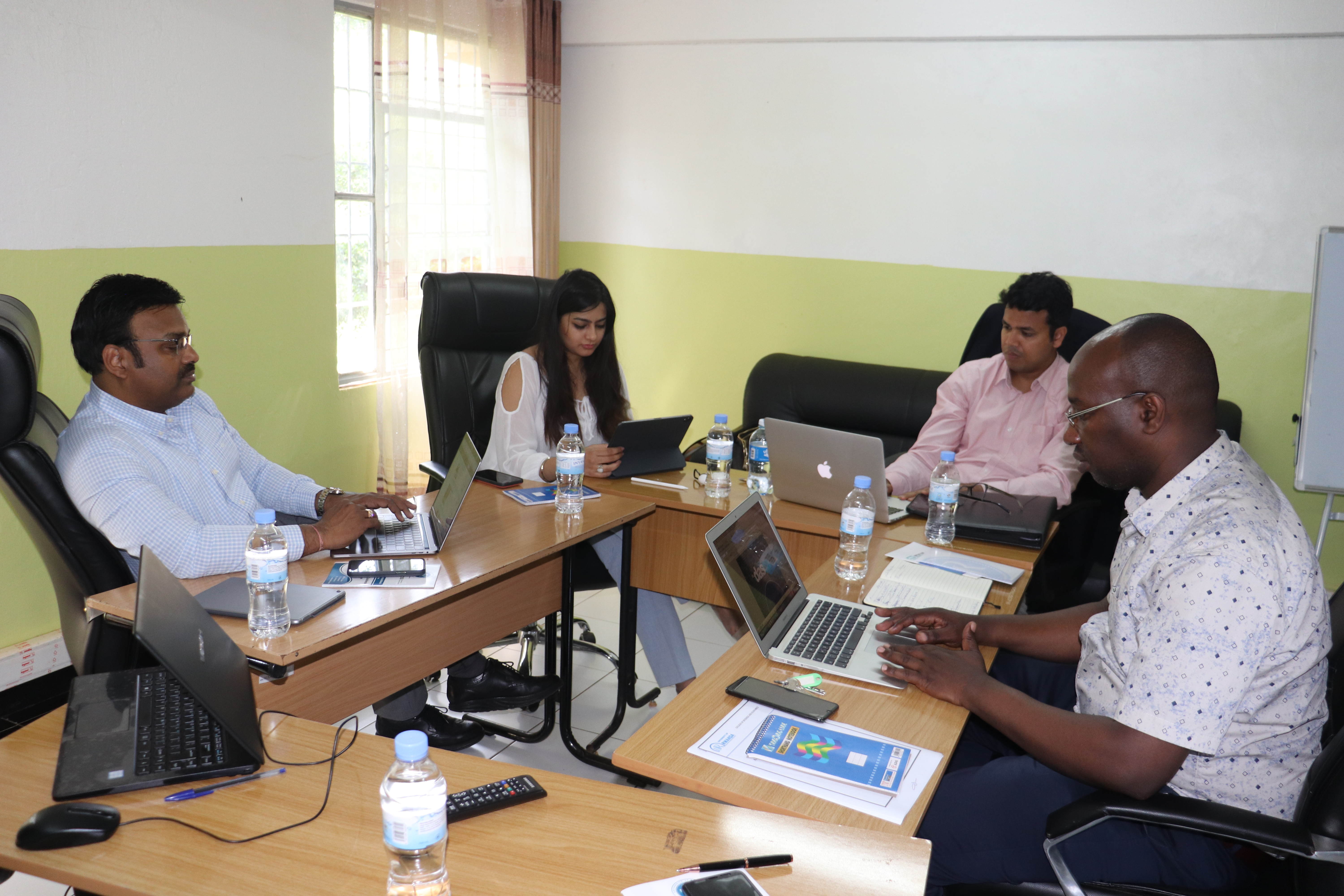 A team from DASCA met the Center Management in the evaluation process of programs to be accredited.
University of Rwanda(UR) is now poised to earn another premier accreditation from the Data Science Council of America (DASCA) – the global giant in data science standards and credentialing. Notably, the UR's African Center of Excellence in Data Science (ACE-DS) is Africa's first institution to be earning the prestigious DASCA accreditation.
The ACE-DS Director, Dr. Charles Ruranga is confident that this will propel this World Bank - funded Center of Excellence in Data Science further ahead of the curve in Data Science learning and research in Africa. "The clincher is that we'll now deploy curricula and content that's aligned to the world's most advanced standards to prepare data science talent that addresses the talent needs of the entire African industry, and not just Rwandans" says Dr. Ruranga.
DASCA accreditation comes on the back of the UR's College of Business & Economics (CBE) becoming an Authorized Education Provider of DASCA, and gives ACE-DS now the capability to offer world-class Master's and PhD programs in frontier areas of Data Science. With the CBE adding the capability to offer DASCA certifications in big data analytics and big data engineering to undergraduate and postgraduate students, the University of Rwanda now seems to have developed a robust data science education and research ecosystem which can offer the widest range of academic, professional and executive programs in Data Science to all types of education seekers.
With DASCA accreditation, ACE-DS also gets to implement vendor-neutral curricula with cross-platform coverage and treatment of data science tools and techniques. "We need our students to be versatile across platforms and agile to emerging technologies. That's only possible if we graduate to a curricular structure that is advanced, and yet generic in its core on the one hand, and on the other, it covers all platforms and tools in practice today and those on the horizon." Explains Dr. Ruranga.
The DASCA accreditation is also expected to push up the global visibility of ACE-DS and the University of Rwanda as seriously capable Data Science educators. DASCA accreditation of ACE-DS is expected to help the Centre accelerate the creation of a data science talent pool of senior professionals who can lead data science projects and help organizations in Rwanda and across Africa implement world-class analytics in business and governance.
The programs being offered which are expected to be accredited are : Master's & PhD programs in Data Science (Biostatistics, Data Mining, Actuarial Sciences and Econometrics).
For more details about the ACE-DS programs, visit www.aceds.ur.ac.rw