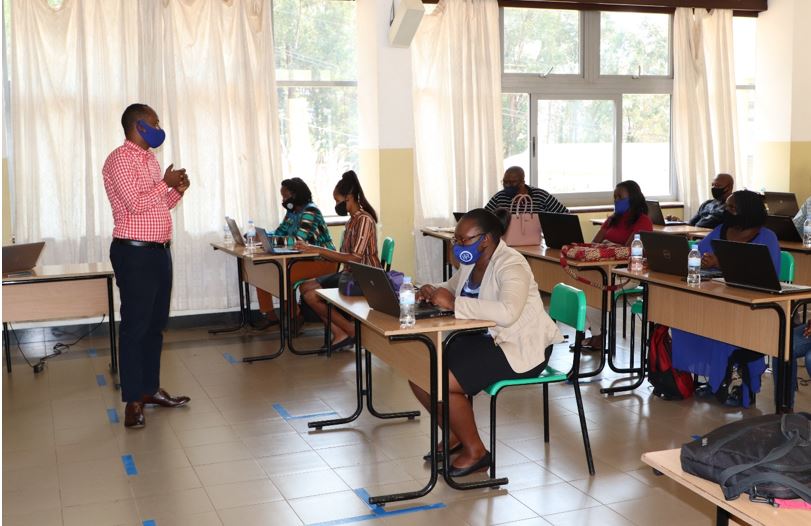 Lecturers being trained at Gikondo campus
In a period of four days, UR trains lecturers on how to develop e-learning method & blended modules as a way of teaching when Classes resume in September
From 3rd up to 6th August 2020, the University of Rwanda (UR) College of Business and Economics (CBE) trained lecturers on how to develop e-learning & Blended modules in teaching. It is by the time schools are predicted to reopen in September as the government of Rwanda has suspended actions that bring people together in an attempt to avoid the spread of Covid-19.
According to Dr. Shema Jean Bosco the director of teaching and learning enhancement (DTLE) in CBE, the training is in the spirit of implementing UR policies as UR has committed to adopt blended learning. Blended learning is the system of learning by physical class or traditional class, and having class online using Moodle platform that UR has. It is also a commitment to engage students in their learning.
This e-learning method is not strange in UR as far as students in Masters and PhD level have been learning using online platform. It is expected to bring improvement to the undergraduate students in a way ; being engaged, they will be capable of understanding and mastering their lessons than in traditional classes as long as this online teaching makes students more active and participatory.
On the side of lecturers who have been trained, this time of training on e-learning has improved their skills on how to use this platform. Rehema Uwamahoro is a lecturer in CBE/ Huye campus. She says "as a result of this training, the lecturer knows how to upload materials, creating groups, controlling students' participation and other things related to the platform".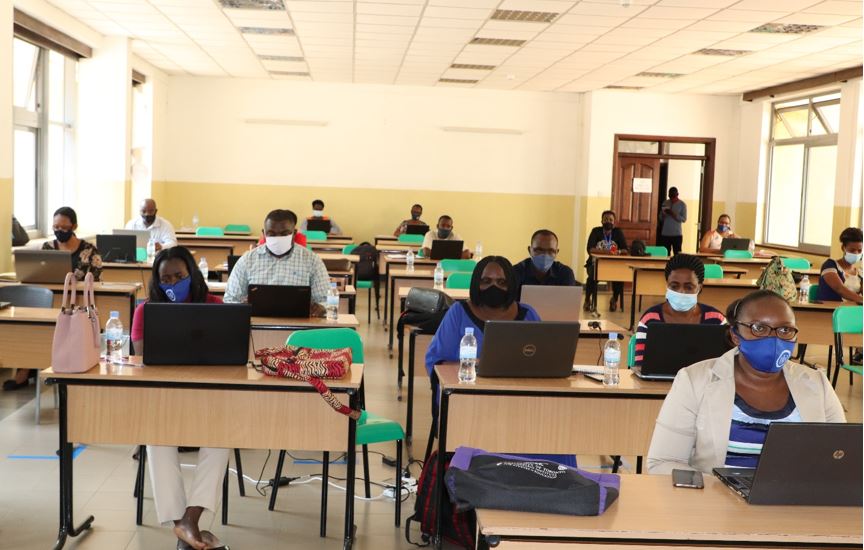 Practical session : Lecturers are concentrated on uploading materials
The training came as the implementation of the message by Prof. Philip Cotton, the Vice Chancellor of the UR where he communicated the UR students' community what will be happening when the students will have invited back to Campuses in September. As he said, the University is shifting from teaching to learning through flipped classrooms, blended learning, problem based learning, case studying and e- learning.
Story by : Eric BUCYANSENGA
Student in year 3 School of Journalism & Communication &
Intern in Communication/UR Head Offices