The African Engineering and Technology Network (AFRETEC) is reshaping the educational landscape in Rwanda by equipping academic staff at the University of Rwanda (UR) with the essential skills and knowledge to harness the potential of modern and emerging technologies.
In partnership with Mastercard Foundation through Carnegie Mellon University-Africa (CMU) under the 'Base Funding Project', UR Afretec on October 22nd 2023 concluded a workshop on Unmanned Aerial Vehicles (UAVs) also referred to as Drones. It was a three-day workshop held at UR Huye campus, - a workshop which brought together 27 academic staff from UR, to foster a new era of emerging technologies, innovation, research and new ways of teaching and learning in the academic sphere. The participants were equipped with skills and knowledge on the of UAVs, UFlight missions planning using specialized software applications and Drone data captured processing among others.
Afretec, a network comprising technology-focused universities from across the continent, is on a mission to enhance engineering and technology, teaching and learning excellence, knowledge creation, pathways to opportunities under the vision to drive inclusive digital transformation through higher education and the strength of collaboration.
The core of this transformative initiative lies in providing unwavering support to students and academic staff, enabling them to enhance their knowledge and skills in the realm of emerging technologies and other areas needing attention when it comes to employability of graduates. Academic staff are supported to enhance their teaching skills via training of trainers and workshops.
Dr. Pierre Bakunzibake, the project implementation lead and Head of the Electrical and Electronics Engineering Department at the UR, shared that "The implementation of UR Afretec project started earlier in February this year and quickly began the rolling out inventions in four sub-projects:Bridge Program for students, Faculty Enrichment for academic staff, Certification Training for UR community and the general public including those from other universities, Topical Workshops for UR community, and UR partners.
He added : "This is the second topical workshop we are holding ; the first one focused on industry-academia matters, and this is one is on the use and application of drones". He indicated that, during the workshop, they explored " various applications of drones, the regulatory landscape, and developed exciting use cases. A key takeaway was mastering data acquisition and processing from drones."
The project lead mentioned that, "the primary beneficiaries of the project are undergraduate and postgraduate students, alongside faculty members. They partake in rigorous training courses aimed at bolstering their knowledge and skills." He indicate that other project beneficiaries include UR partners in both the public and private sectors. The general public people with disabilities and refugees are also part of the targeted beneficiaries of the project.
In collaboration beyond borders, the Project Lead highlighted that AFRETEC, a pan-African collaboration operates across six universities. This consortium includes University of Rwanda (UR), Carnegie Mellon Africa, University of Lagos, University of Nairobi, American University of Cairo, and South Africa's Wits University.
According to him, in terms of tangible outputs, to date, 484 undergraduate students have undergone bridge program training on various fundamental engineering and technology courses, while 240 are on track to receive certificates i.e. those who have completed certification training. Furthermore, 60 participants are currently taking the certification course of Big Data Analytics. He highlighted that they are on the verge of monitoring the impact that is being made through different afretec interventions.
"The utmost goal of the project is to help enhance academic curricula in Engineering and Technology towards responding to society's needs, through training, workshops and collaborations," he added.
Engineer Jean Pierre Hitimana, AFRETEC's beneficiary who works at UR in the Centre of Geographic Information Systems and Remote Sensing, fondly shared that his expectation was fulfilled ; he learnt more about drones, especially how they can be applied in various fields.
"For instance, some of us created a project which uses drones to detect animals in a park. This project helps visitors know where to find animals like lions, zebras, hippos, and elephants in the park."
"It's like having a map that shows you where the animals are. So, drones can help the park managers show tourists where they can easily go and find animals they want to see," he added.
Hitimana believes that it is essential to involve individuals from an early age, starting with secondary school students, to familiarize them with this technology.
"We need to expand our drone-related knowledge and resources, including more drones and knowledgeable individuals. Besides that, there are abundant drone-related opportunities in Rwanda, and it is of great importance for people to be aware of these possibilities." He also indicated that he will use the knowledge gained to train students.
Equally, Emerance Nteziyaremye Beneyo, a lecturer at UR in Chemistry Department expressed that she has indeed learnt more about drones, components made them and various types of drones.
"I did not know that drones can be used in various activities including environmental monitoring to disaster detection and response alike."
Beneyo added : "Personally, this opportunity will boost my knowledge especially in my research since I am able to use drones' sensors, which ultimately lead to time management and easy access to primary sources of essential information."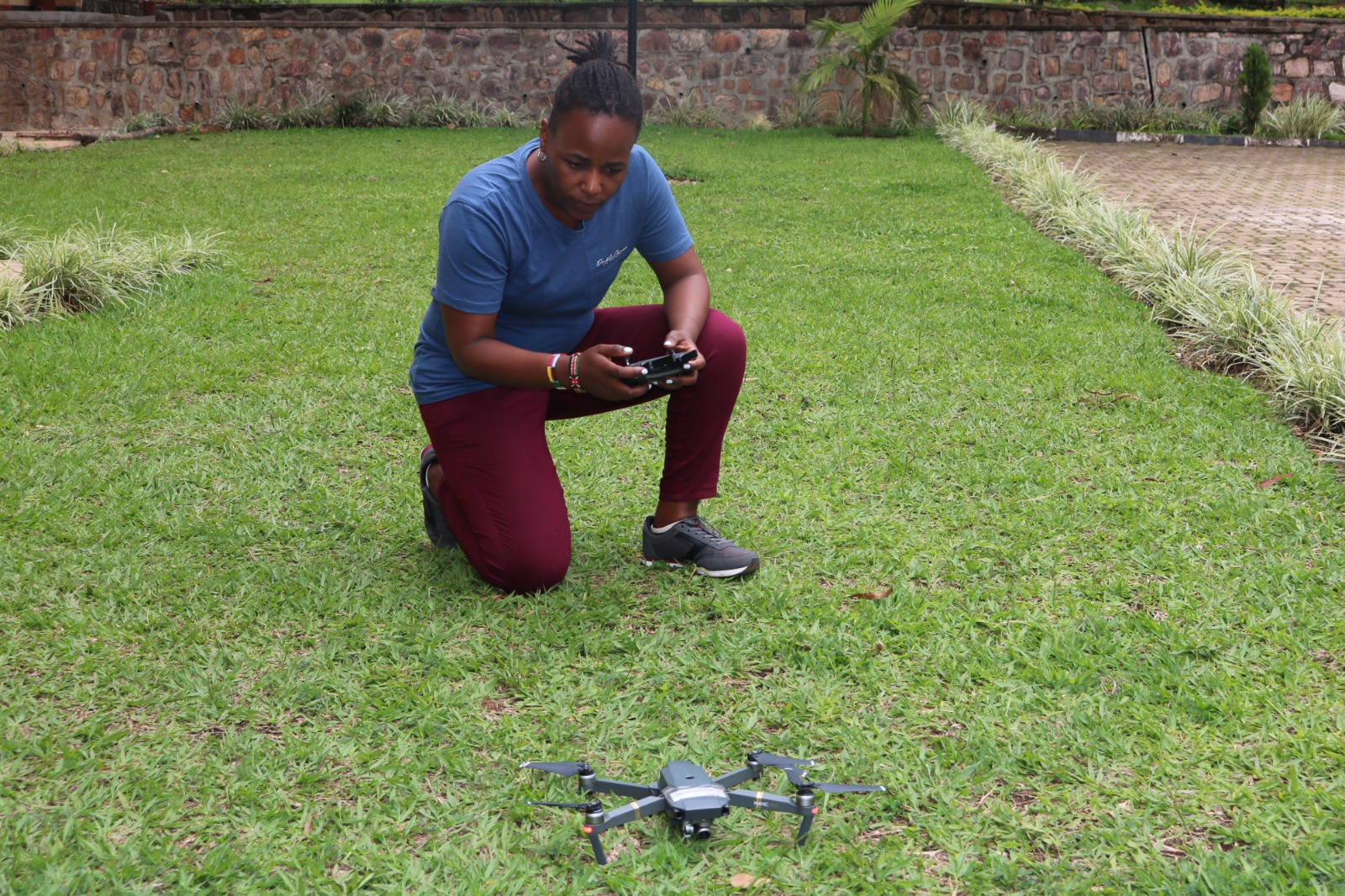 One of participants trying to test-fly a drone
Participants during the training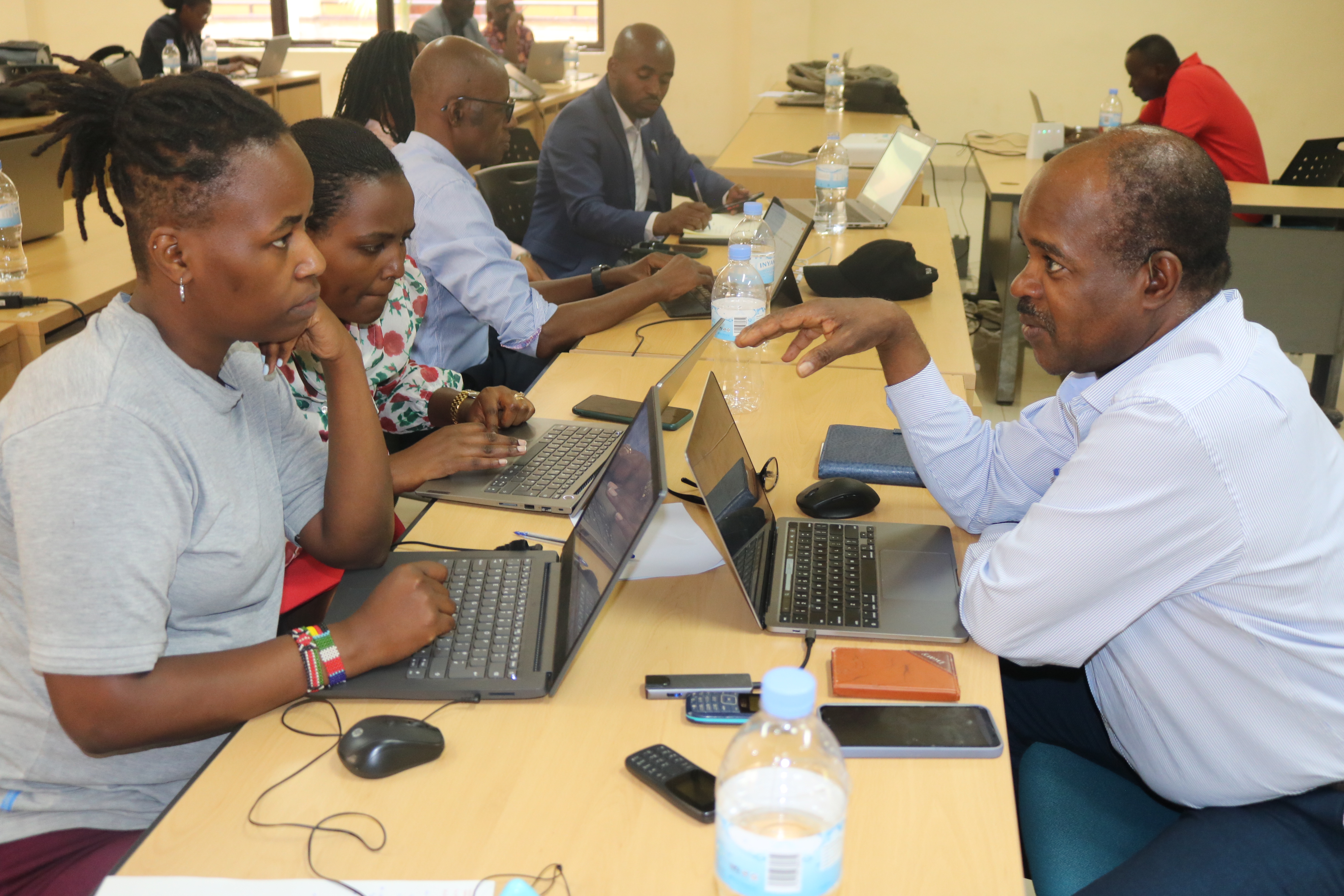 Participants held group discussions on different cases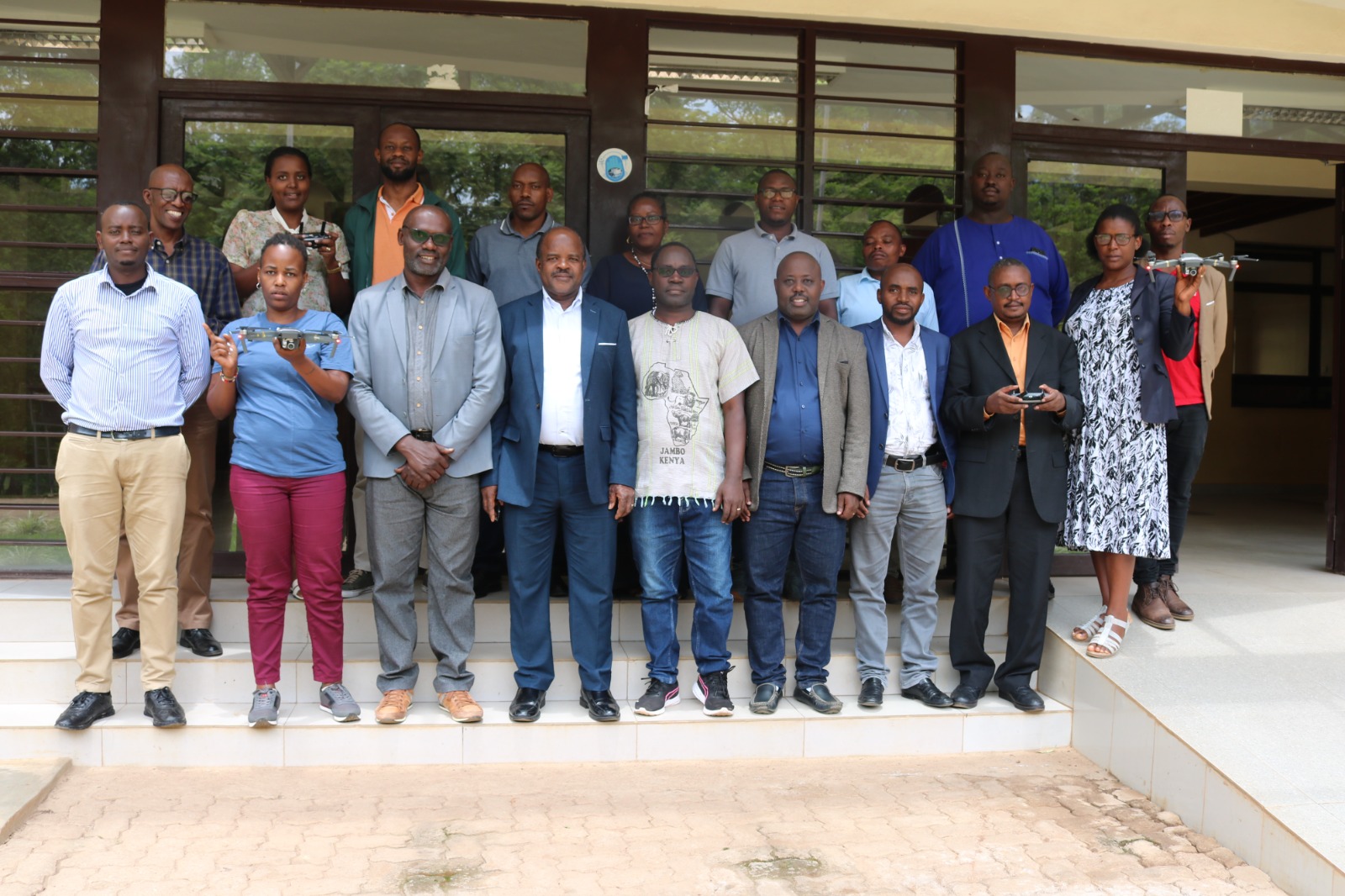 Participants pose for a group photo after the training