The University of Rwanda through the Centre for Open, Distance and e-Learning (CODeL) conducted a 2-day virtual induction on 20th and 21st October 2020 for Year 3, 4 & 5 students in all UR Colleges. Students needed the training to enable them master the online learning.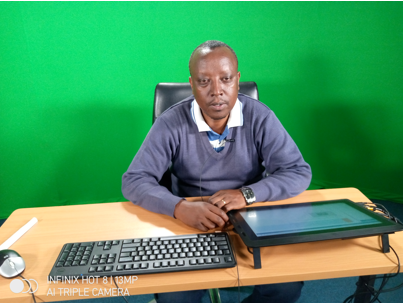 Dr. Mathias Nduwingoma, Director of CODeL during his lecture in the Multimedia Studio
The event was broadcast live from the Multimedia Studio based at the College of Education-Rukara Campus, facilitated by CODeL e-Learning Officers.
The organization of the training was motivated by the fact that :
1. ICT has to be adapted and adopted in education as one of the responses to COVID-19 pandemic ;
2. The mode of delivery is blended learning ;
3. The greater time of learning, teaching and assessment is online since the re-opening of UR on 19/10/2020 ;
4. 100% of all modules of Trimester 2 and 3 are uploaded on the UR e-Learning Platform ;
5. Where possible, virtual classes will be conducted to reduce the face to face mode of delivery ;
6. After 7 months of closure of UR, the period of time during which all UR lecturers uploaded their modules on the UR eLearning Platform and during which students were encouraged to learn online, it was realized that there is a big number of students who seem not to have logged in the UR e-Learning Platform ;
7. The time allocated to learning, teaching and assessment in Trimester 2 and trimester 3 is 12 weeks because the Learner Centered pedagogy will be effectively applied.
8. From the different meetings held in all colleges to discuss "Establishing a new pedagogy at UR from the reopening in mind October 2020" conducted from 07/10/2020 up to 15/10/2020, participants expressed the need of supporting the students to use the UR e-Learning Platform ;
''During the training students have to learn how to navigate in their different modules (login, editing profiles, doing and online quizzes, doing and submitting assignments, reading e-resources, online collaboration, getting grades, …) and they will be shown different user guides that will help them during their online learning,'' Dr. Mathias Nduwingoma the Director of CODeL noted.
Students were also shown different tools that will help them address the problem of Internet connection. They installed MOODLE Desktop and MOODLE Mobile, version of MOODLE that allow users to work offline on the UR eLearning Platform and synchronize when they have the Internet Connection. These tools are geared to reducing the consummation of Internet connection fees.
Story by
NTIRANDEKURA Schadrac
PRO, UR-CE