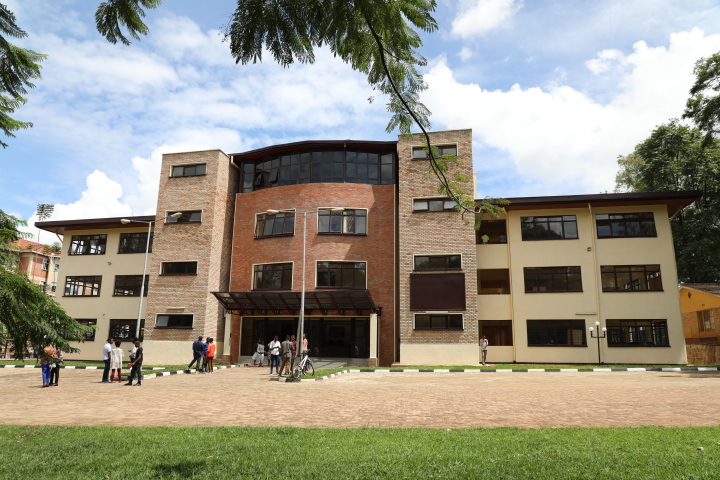 Friday 31, January 2020, University of Rwanda Deputy-Vice Chancellor for Strategic Planning and Administration Dr. Papias Malimba Musafiri , his colleague in charge of Finance Ms. Françoise Kayitare Tengera alongside of The Korea International Cooperation Agency (KOICA) Country director in Rwanda Byunghuha Lee presided the reopening ceremony of ICT building commonly known as KOICA building in Huye Campus.
Inaugurated Nine years ago in 2011, this building was no longer in use because of some faults that occurred after its construction and inauguration. As KOICA was source of funding during the construction, this time Korea agency also funded its rehabilitation and ICT equipment to be used by the School.

Activities started in November 2018 and the total cost of rehabilitation is around 400 million Rwandan francs while other more than 200 million Rwandan Francs were spent in purchasing ICT equipments mainly computers. Meaning that the total cost (rehabilitation and equipments) is more than 600 million Rwandan francs.
In his speech BYUNGHUHA Lee country Director of KOICA said that they are willing to support ICT education in Rwanda.
Dr. Musafiri. the UR DVC/SPA while speaking at the occasion said "This building is a result of partnership between Rwanda and South Korea." This ceremony is a sign of witnessing the vision of Rwanda, which is knowledge based on technology", he added. Note that this ceremony was attended by the Principal of the College of Science and Technology (CST) Dr. Ignace GATARE as well as the dean of the school of ICT Eng. Musabe Richard. Today the CST/ school of ICT has 1108 students and almost 300 are based in Huye Campus. It is planned that the whole school should move from Nyarugenge campus to Huye campus.
By HAGABIMANA Eugene
Public Relations and community engagement/Huye Campus