The School of Dentistry (SOD) is nearing completion of the first year in its new academic campus where BDS and BDT students and faculty enjoy the improved classroom, laboratory and clinic spaces. With its new home in Remera, SOD's pre-clinical training occurs in two large labs, one for training of restorative techniques (fillings, root canals and periodontal techniques), and the other for training in restorative fixed and removable prosthetics (implants, dentures and crowns).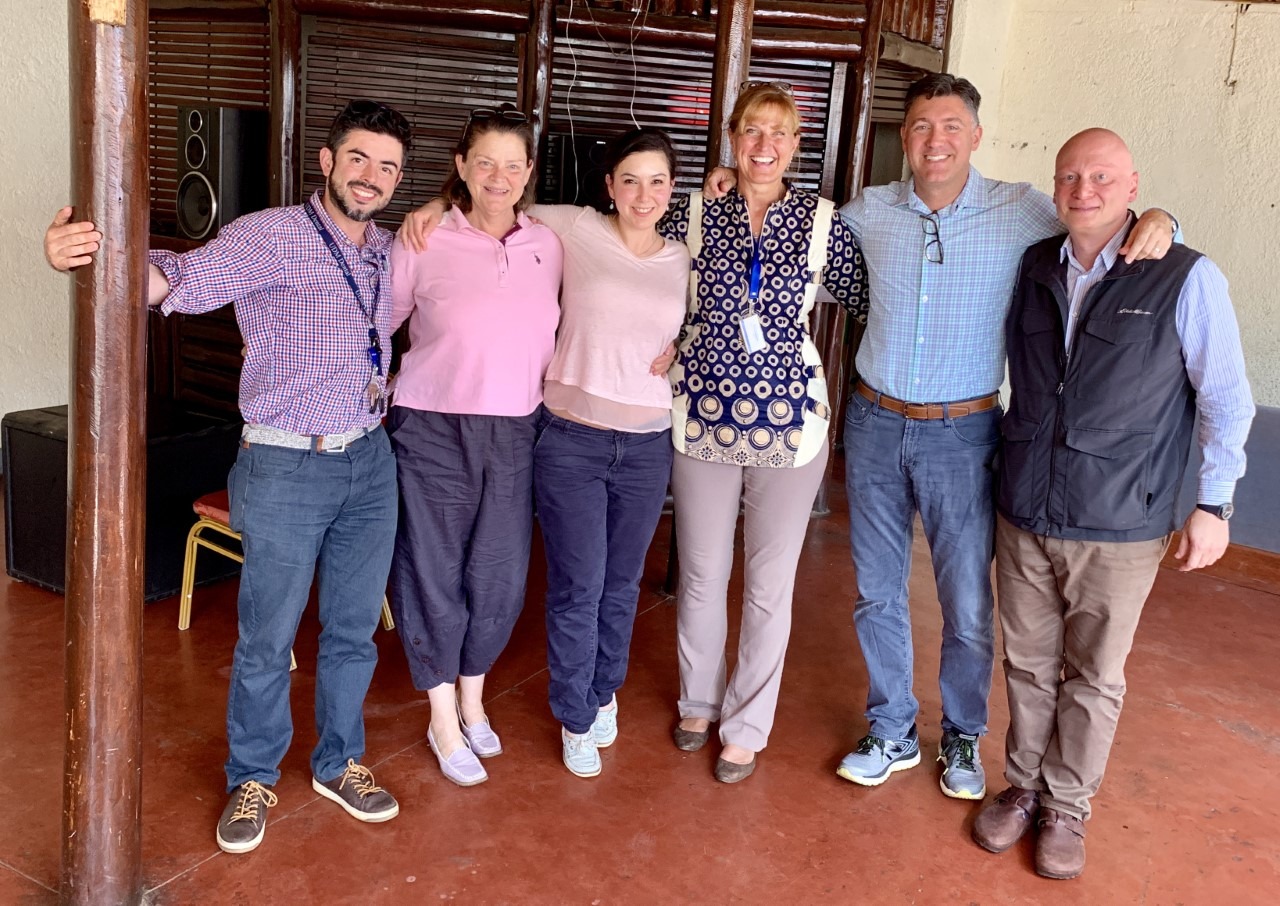 HRH Team 2018-2019 (Dr Vini Rodrigues, Dr Eleana Stoufi, Dr Steffany Chamut, Dr Donna Hackley, Dr Michael Ray, Dr Joseph Yozgatian)
SOD will soon receive a very generous donation from Rotary International, Germany, which will expand our training capabilities even further by adding 14 simulation training units and 10,000 plastic teeth.
Thanks to great collaboration between SOD leadership, HRH faculty from Harvard School of Dental Medicine (HSDM), and University of Rwanda College of Medicine and Health Sciences UR-CMHS, SOD is set to open its new 16-chair training clinic which is designed to maximize and modernize the training space for all of its students.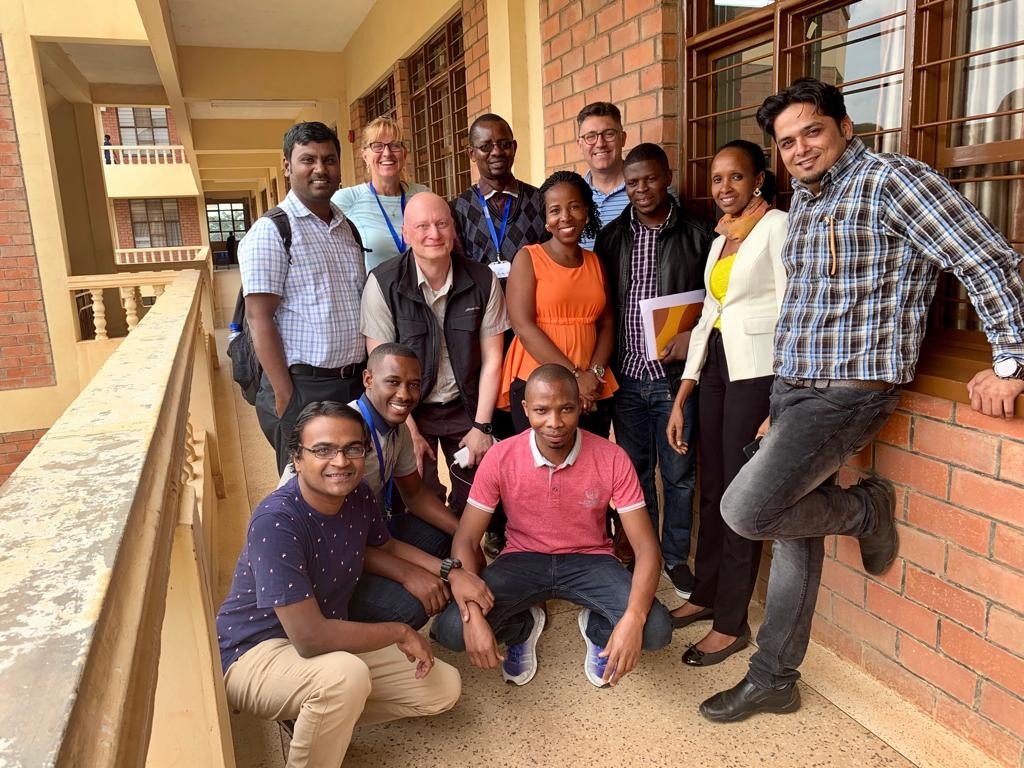 The faculty of the School of Dentistry posing with the Dean Dr Chrispinus Mumena
Infection prevention and control is of paramount importance and designated areas have been constructed to state-of-the-art standards including limiting access to trained personnel, physical separation of "dirty" and "clean" sides, a linear workflow, and close monitoring of sterilizer effectiveness. The clinic also has its own designated radiography area, office management area, and storage.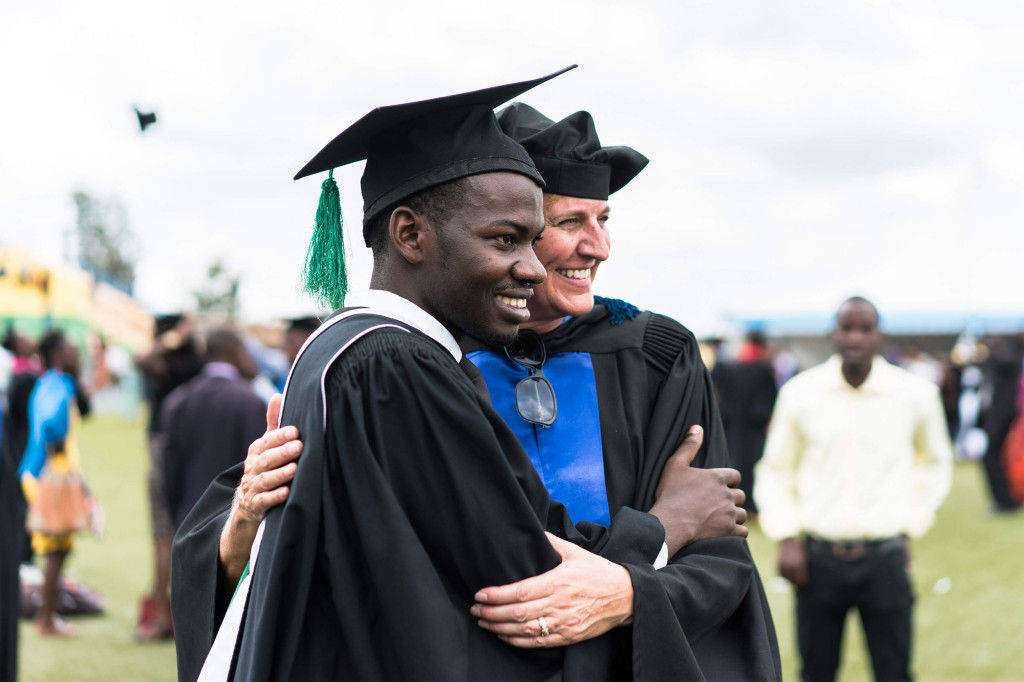 Prof Donna posing with a graduate of the School of Dentistry
A total of seven HRH faculty members from HSDM participated in this academic year including general dentistry, oral surgery, orthodontics, community dentistry, pediatric dentistry and periodontics. HRH faculty members continue to provide valuable education, mentorship and manpower to SOD. With five returning faculty members participating between 2-6 years, it is evident that the professional collaborations with colleagues and the interactions with students keep this important partnership thriving.
On a personal note, this past trimester marked my 6th HRH rotation to the School of Dentistry and my 21st trip to Rwanda. In August 2013 I told my husband and two teenage daughters that I would be gone for "only four months, just this once." As has happened with our entire team in dentistry since the start of HRH, I returned – again and again.
What is it that gets into us ? Keeps us coming back despite many challenges ?
We come because we enjoy twinning with our colleagues and developing our medical discipline as well as our friendships. We come because we love our students who are eager to learn, open to new ideas and determined to attend class despite personal challenges. We come because we love Rwanda, a country growing in health, education, and economic sectors in spite of limited resources, and a country that welcomes us regardless of our gender, race, or religion.
This Land of 1,000 Hills is incredibly clean and breathtakingly beautiful. And above all, its people strive to build a country of peace and prosperity for the future. I have come to adore my SOD and HRH colleagues, and my beloved SOD students, and take joy in the progress we have made together. I am most humbly blessed to be a part of this amazing journey.
Written by Prof. Donna Hackley
Harvard School of Dental Medicine