The University of Rwanda Vice chancellor Prof Alexandre Lyambabaje presided over a handover ceremony between the incoming DVC for Academic Affairs & Research Prof Nosa O. Egiebor and the outgoing Ag. DVC Dr Emile Bienvenu. Prof Egiebor assumes duties following his appointment by Rwanda Cabinet meeting. He joins UR with extensive experience from his services in several academic and research institutions worldwide.
Speaking while officiating the event, Prof Lyambabaje hailed the outgoing DVC Dr Bienvenu for his role in the management of teaching and learning activities despite the outbreak of COVID 19. Bienvenu is also known for his effort to champion innovation project grants that are poised to make a significant impact to the community.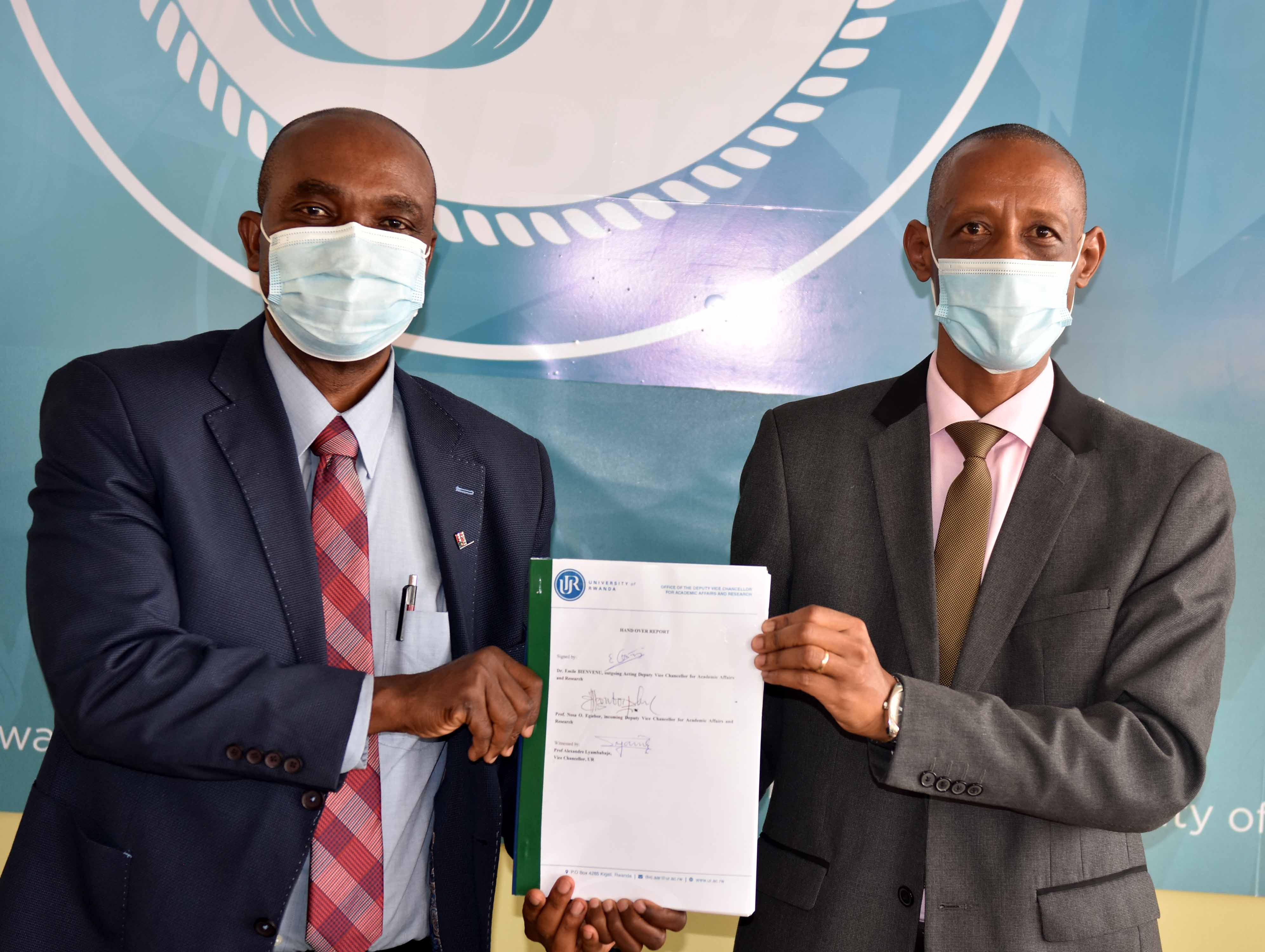 Prof Nosa O. Egiebor (L) and Dr Emile Bienvenu during the handover exercise
"We are confident that with the support of Dr Emile, students will be able to come up with interesting findings and innovation that will contribute to the development of Rwanda, East Africa and the continent," Lyambabaje noted. He also added that Dr Emile's effort earned him to be selected as the chairperson of the special committee to make studies for Rwanda to manufacture vaccines on the continent. This, according to him, is a sign that UR's ambitions go beyond academics and innovation.
In his remarks, Dr Bienvenu acknowledged staff solidarity during his office tenure and called for extension of more support in terms of resources and capacity building to both students and staff. He also urged to redefine activities of the University Centres of excellence to ensure their sustainability. Among other things, Bienvenu asked to give impetus to the review of academic programs ; an activity under UR priority, so that all the programs can be market oriented.
In addition, research is one of the key segments of focus for any University. According to Emile research ecosystem should be streamlined and harmonized across the University. There is also a need to develop a comprehensive research policy to inform current and prospective research endeavors, he adds.
Prof Nosa O. Egiebor brings a long standing experience in academic and research business. He assured that he understands some of the challenges that the University faces. He therefore urged staff to be the best in their own capacity because excellence is not only measured by infrastructure and buildings.
"The most core component for the institution to be the best is the people," said Egiebor, adding that institutions move forward when staff demonstrate total dedication to duty.