LAISDAR, a project operating in the University of Rwanda donated IT equipment worth Rwf 30M to 15 hospitals and health Centres to facilitate in data storage. LAISDAR stands for Leveraging Artificial Intelligence and Data Science Techniques in Harmonizing, Accessing and Analysing SARS-COV-2/COVID-19 Data in Rwanda ; the project is managed by the University of Rwanda research team.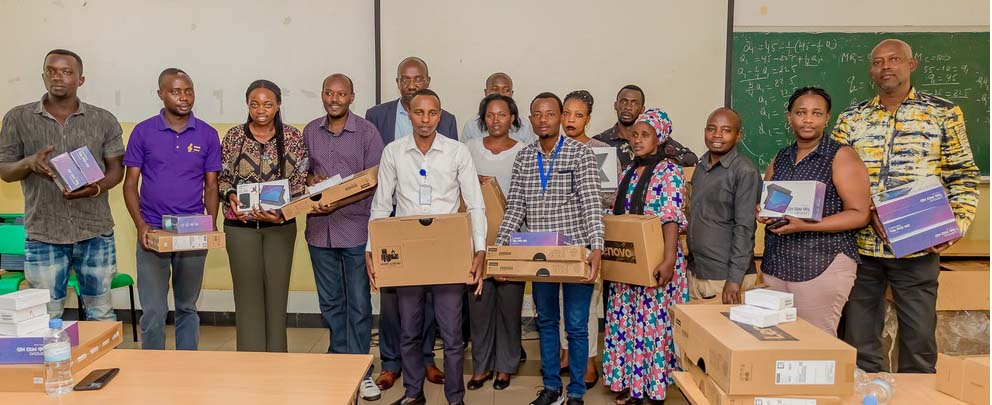 Representatives of hospitals pose for a group photo after receiving equipment
LAISDAR is the project which leverages Artificial Intelligence (AI) and other Data Science (DS) techniques to create a scalable framework for inventorying, harmonizing and federating the accumulated data from COVID-19 patients and converting it to a standardized data format so that it can be used as part of wider studies on the disease.
The equipment includes laptops, internet modem, Ruckus R550 Indoor Access Point, among others.
Speaking at the event, the Project Investigator, Prof. Charles Ruranga said the equipment will help hospitals and health Centres in storing data and be able to feed the project with accurate information.
Prof Charles Ruranga handing in equipment to a hospital staff
"The equipment will not only contribute to the project success but also will increase the overall performance of hospitals in data storage and IT department in general," said Sezirahiga Eugene, IT Officer at Nyamata Hospital, one of the hospitals that benefited from the equipment
A two-year LAISDAR project outcome will be leveraging federated data with Machine Learning and other mathematical methods to drive evidences. These evidences fulfill the Government of Rwanda priorities and need in predicting and monitoring the burden of COVID-19 in the Rwandan community. They allow assessing hospital admissions and overall infection rates while monitoring the impact of various public health measures on the pandemic evolution in the country.
Story by
Jean Damascène NIYITEGEKA
Communication & Marketing Specialist
African Centers of Excellence Project (UR-ACEs)