In his farewell speech to staff and students, the retiring Principal of the Rukara based University of Rwanda College of Education Professor George K Njoroge gave an account of the beginning of his career in Rwanda, encouraging teachers to care passionately about the young people whom they are nurturing. He said that leadership is not a walk in the park. According to him, the important thing is to look at a bigger picture.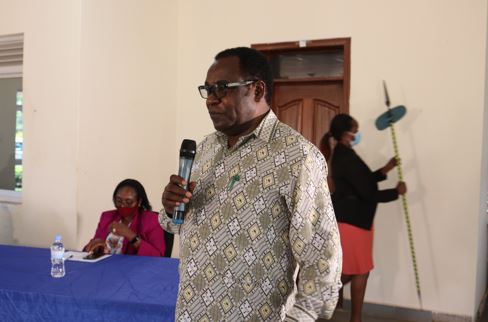 Prof George K Njoroge, the outgoing UR-CE Principal during his farewell speech
"I first came to this country in 1999 as one of the UNDP consultants to set up the Kigali Institute of Education (KIE).We made the programs and then went back home. Then, I got an invitation to come back..., and I came, despite other job offers such as in South Africa and Australia,'' Prof. Njoroge narrated in handover speech. Dr. Florien Nsanganwimana succeeds him.
The good Professor also took the audience through the challenges his team faced at the start of KIE as a prime education institution in post-genocide Rwanda. "It was not a walk in the park for the first group of students. You can imagine that this was a post-genocide institution, and there were challenges.
"There were students who had been out of school for some time, and we had to take them through'', he said, adding that "We would go to deliberate about examination results and other activities trying to ensure that students are accountable''. Prof. Njoroge stressed that the issue was not about passing or failing, but it was about inducting needed skills in the country. Despite these challenges, as he said, the institution has significantly grown up and now it is amazing to see UR-CE graduates in all sectors of the economy.
Prof Njoroge indicated that he is very optimistic towards the future of the young people and called on his fellow teachers to take good care of them. "You can imagine what we do if we don't take care of the young people, showing care, love, guidance and mentoring… so that tomorrow they are better than ourselves,'' he said. "I shall be happy to see that our students are better than us'', he pointed out.
He congratulated his successor for taking over the duties and responsibilities of the Principal and assured him of continued support, advising that he tries to always look at the bigger picture. "A bigger picture is that we reflect on the institution and see what it represents. It is not about us ! It is about our people, our nation, the public. It is about the mission that has been assigned to the institution,'' the outgoing Principal elucidated.
Prof Njoroge has been serving as Principal of the College of Education since 2013 when seven public institutions of higher learning education including former Kigali Institution of Education (KIE) were merged to form one mega University of Rwanda. He had served in various KIE leadership positions including as Rector, Vice-Rector Academic, Director of Academic Quality and Dean of Faculty, among others. For the whole speech, please click on this video link :https://www.youtube.com/watch?v=qhju02ZwN-4
Story by
NTIRANDEKURA Schadrac
PRO/UR-CE Principal