Prof Beth Kaplin received the Frankfurt Conservation Award following her key role in conservation as the Director Centre of Excellence in Biodiversity and Natural Resources Management. Her Centre is the champion of knowledge promotion on biodiversity and natural resources for sustainable development. The Frankfurt Conservation Awards – an environmental prize in 3 categories awarded by the Bruno H. Schubert- Foundation. The Bruno H. Schubert Prize is awarded by the Frankfurt-based Bruno H. Schubert Foundation to individuals for their exceptional commitment to preserving the biological diversity of our planet.
The non-profit foundation has been honoring scientific achievements and the practical implementation of research results in the field of nature conservation and environmental protection since 1983. Among the award winners are big names such as Jacques-Yves Cousteau (1983), Prof. Edward O. Wilson (1996) or Prof. Klaus Töpfer (2002).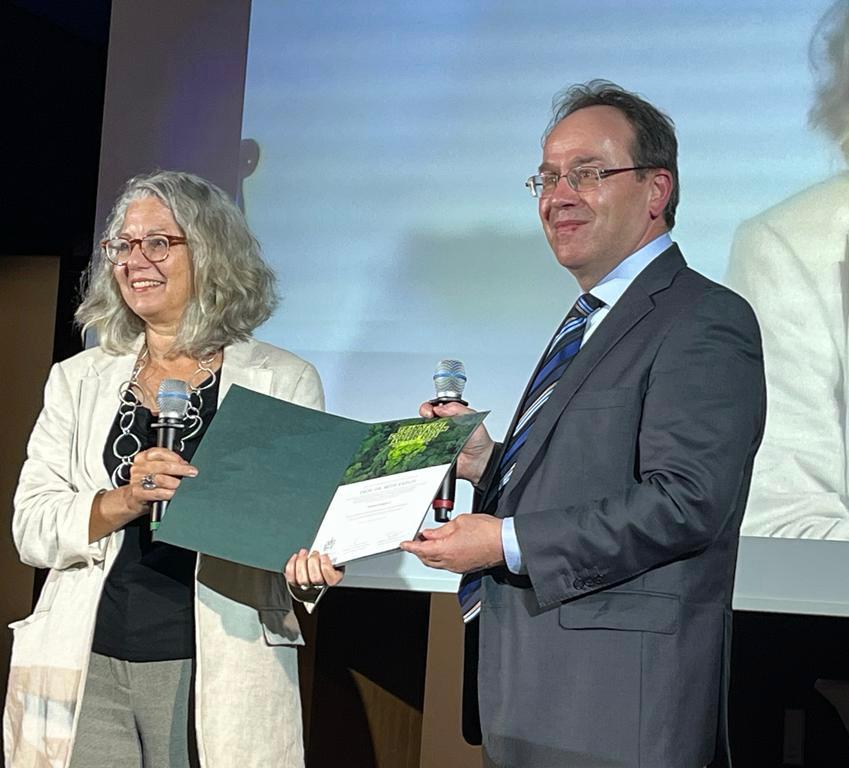 Prof Beth Kaplin (L) while receiving the Frankfurt Conservation Award
Prof Beth Kaplin described the reception of the award as a tremendous honor and a surprise for her work in conservation.
"It really reflects the collective work of my colleagues at the University of Rwanda and all of the other partners who have worked together with me with great passion and dedication to launch the Center of Excellence and make it something that we can all be very proud," she said.
The name of the foundation goes back to the entrepreneur and honorary citizen of the city of Frankfurt, Consul General Bruno H. Schubert (1919-2010). Throughout his life, he had been committed to the protection of animals and the environment. In addition to his diplomatic commitment to Chile, Bruno H. Schubert was a board member of the Frankfurt Zoological Society and a recipient of high national and international awards. Consul General Bruno H. Schubert and his wife Inge Schubert established the charitable foundation in 1994 and endowed it with a capital of DM 1 million. The Bruno H. Schubert Foundation works closely with the Frankfurt Zoological Society.
"The work we do in the Center helps us face the great environmental & social challenges we face in the 21st-century," Kaplin noted.