The University of Rwanda witnessed a handover ceremony between the outgoing Vice chancellor Prof Alexandre Lyambabaje & Prof Nosa Egiebor who will lead the university in acting capacity. This event follows the announcement signed by the Chairperson of the Board Prof Paul Davenport that released Lyambabaje from his duties to enjoy a well-deserved retirement following vast experience in academics and leadership.
During the handover of instruments of power to Prof Egiebor, Prof Lyambabaje appreciated the support he got from UR community over fifteen months as the Vice Chancellor. He also commended the University staff who demonstrated high sense of responsibility and positive values which led to a number of achievements. The outgoing VC expressed his satisfaction for the open debate he held with the university management in various forums for the betterment of the university and the country at large.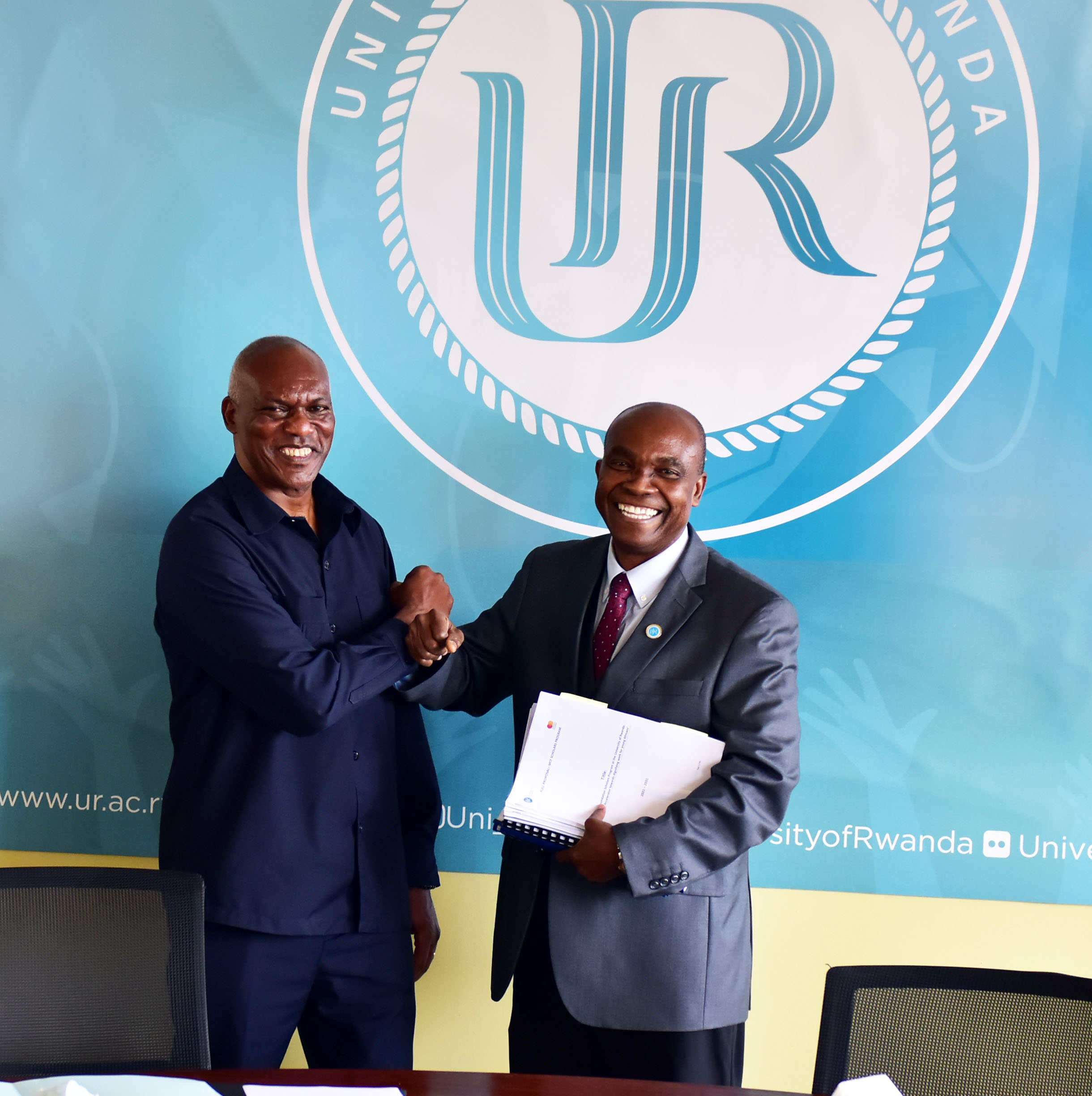 The outgoing VC Prof Alexandre Lyambabaje (L) and Prof Nosa Egiebor during the handover exercise
"Please continue emulating excellence, promoting critical thinking and cultivating constructing dialogue and debates aiming for the best of our university" said Lyambabaje.
Speaking on the occasion, Prof Nosa the incoming Ag. Vice Chancellor testified cordial relationship with Lyambabaje during his tenure as the VC. He also hailed the achievements that the University of Rwanda witnessed with Prof Lyambabaje at the helm and called on the University community to build on achieved milestones and do the best to move the university and the country forward.
"The university should cement its role in the development pathway of this wonderful nation of Rwanda," said Nosa. He also asked the University community to continue working as a team which is the only way to achieve set goals.
Among the participants in the function included Dr Alphose Mulefu, the Principal of the College of Arts and Social Sciences. He noted that the outgoing Vice Chancellor has made a mark in the way he does things at individual and collective standpoint. He also made a plea to Prof. Lyambabaje to consider coming back to UR in different capacities.