Prof Alexandre Lyambabaje, the new Vice Chancellor hailed achievements by his predecessors and pledged to add a building stone towards the University advancement. He said this during a handover ceremony with Dr Papias Musafiri Malimba who served as interim Vice Chancellor since the end of Prof Philip Cotton's five year tenure last October.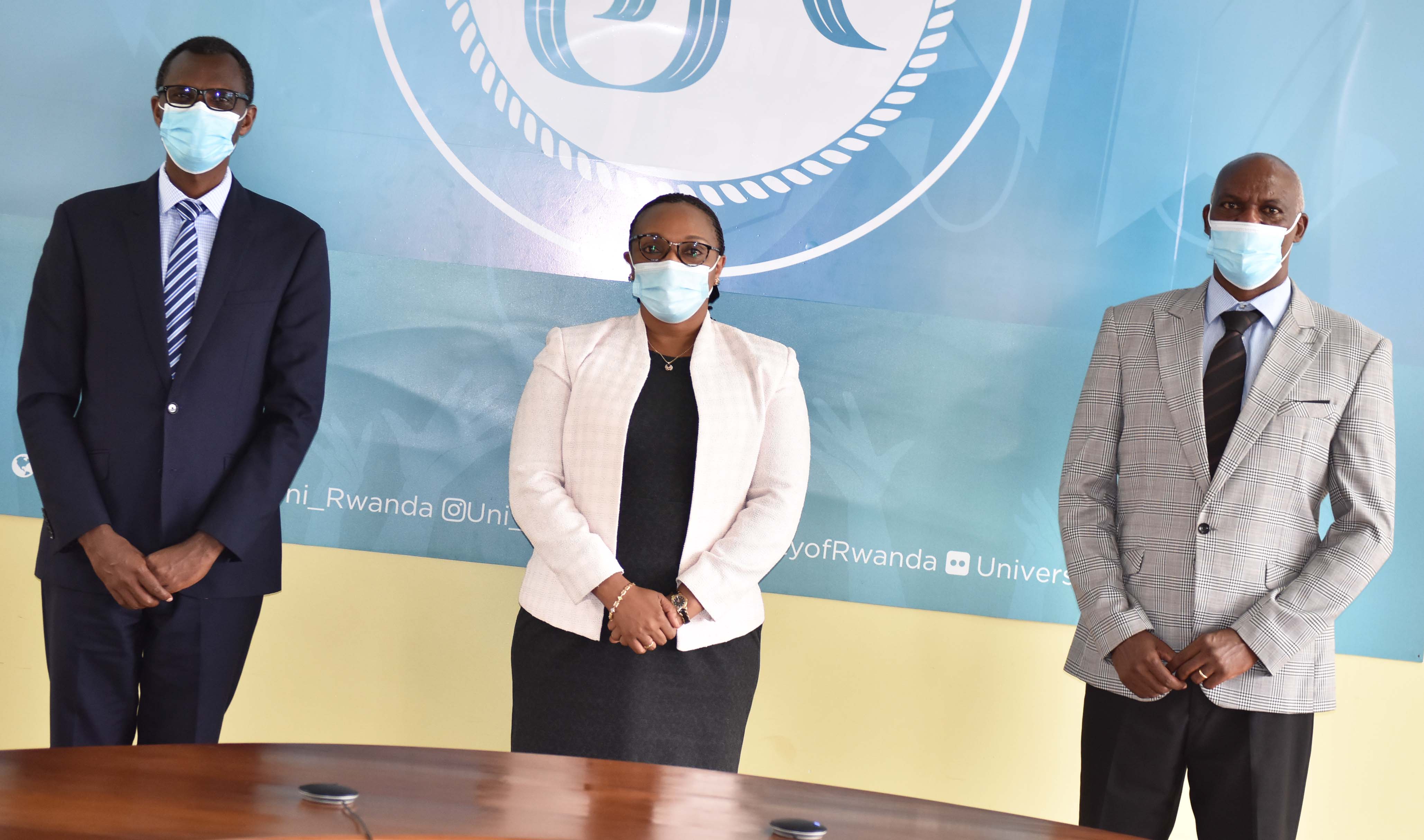 The handover was officiated by the Minister of Education Dr Uwamariya (C), here flanked by the Vice Chancellor Prof Lyambabaje (R) and Dr Malimba, the DVC for Administration and Strategic Planning
Speaking at the occasion, Prof Lyambabaje pledged synergy among the university community to ensure that the University of Rwanda becomes a pillar institution for Rwanda to achieve vision 2050 based on the country's National Strategy for Transformation. The new Vice Chancellor also expressed his intention to integrate alumni to contribute to the University development through teaching, delivering public lectures and supervision for masters and PhD students.
"We have to move from brain drain to brain circulation from private-public institutions to UR and to academia" Prof Lyambabaje said.
Among other key priorities, the new Vice Chancellor called on the University of Rwanda staff to revisit the support to students while boosting consultancy which will not only generate funds but also reduce the dependency to foreign expertise. Other interventions include the collaboration with national and international institutions, promotion of inter-university sports at national, regional and global scenes for encouraging the spirit of competition and networking among young Rwandans.
In his presentation, Dr Papias Malimba elaborated on the University background, mandate, structure, governance, current status and its strategic plan. He noted that despite COVID 19 which disrupted the academic calendar, the university tried to adapt very quickly by uploading 98% of teaching materials on its eLearning platform.
Dr Malimba also the Deputy Vice Chancellor for Administration and Strategic Planning said UR has embarked on a comprehensive review of its programmes while availing conducive environment in terms of resources and incentives to carry out research.
The handover exercise was presided over by the Education Minister Dr Valentine Uwamariya, who lauded the University milestones since its inception seven years ago. According to her, the acquisition of African Centres of Excellence has contributed massively to research output at the national level. She also commended UR initiative for registering 46 new research grants and capacity building projects by 2020 totaling to Frw 6 bn.
"I believe looking at the available expertise in its senior leadership, the University of Rwanda will live up to expectations," she noted.
Prof Lyambabaje was appointed by the Government of Rwanda on 2nd February, 2021, He was endorsed by the Rwanda Senate 10th February 2021. The new Vice Chancellor joins a university comprised of six colleges and nine campuses. These are located across the country. The University currently has around twenty seven thousand students and around 1900 academic and support staff.