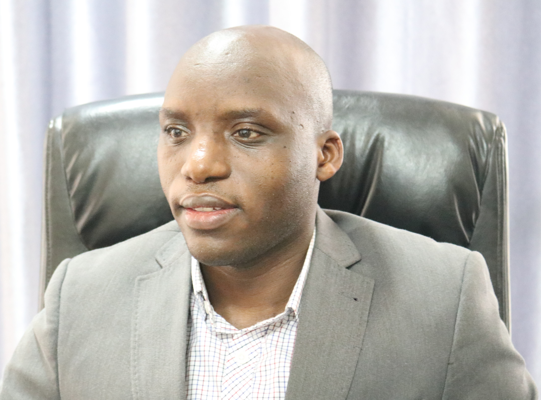 Dr. Florien Nsanganwimana, the Acting Principal of UR-CE
On Thursday 8th October, 2020, the University of Rwanda College of Education got a new leader. Dr. Florien Nsanganwimana assumed the role of Acting Principal, replacing the Outgoing and retiring Prof. George K. Njoroge. He is a senior lecturer and member of the academic staff in Biology. So who is Dr. Nsanganwimana ?
Educational background
Dr. Florien Nsanganwimana holds a PhD in Applied Botany to Geosciences and Ecology from the University of Lille1 (France, 2014), and a Postgraduate Certificate for Teaching and Learning in Higher Education from UR-CE, 2016. He also holds a Master's degree in Ecology from the University of Bordeaux1, France, 2011, and Bachelor of Science in Biology Education from the Kigali Institute of Education, 2005. He is a qualified teacher with related qualifications in Primary, Secondary and Higher Education.
Dr. Nsanganwimana has a broad knowledge of educational leadership
Prior to his appointment he was Head of Research at the African Centre of Excellence for Innovative Teaching and Learning Mathematics and Science (ACE-ITLMS) ; Vice-Chair of Research Committee of UR-CE, Chair of Research Committee of ACE-ITLMS ; and Deputy Team Leader of the Quality Basic Education for Human Capital Development (QBEHCD) project, Subcomponent 1.2 focusing on STEM instruction in Upper Primary and Lower Secondary Education. He is also the UR-CE nominated e-learning champion and has been very instrumental in organizing trainings related to online teaching and learning for academic staff. Dr. Nsanganwimana has contributed significantly to a number of trainings in continuous professional development programmes for both pre- and in-service STEM teachers in Rwanda in the projects which aim at consolidating and upgrading teachers' pedagogical skills and content knowledge for effective implementation of Competence-Based Curriculum (CBC). He joined the former Institute of Education-KIE, now UR College of Education as an academic staff in 2007.
In Addition to his teaching qualification, Dr. Nsanganwimana has also wide experience in research planning and management. His areas of interest in science education pertains to topics such as implementation of Learner-Centred Pedagogy (LCP) in teaching and learning Sciences in higher education, online teaching and learning, Effective teaching, integration of ICT in Science Education, Blended and Flipped learning and Environmental Science Education. Other areas of keen interest include sustainable management of degraded and polluted ecosystems, mining impacts assessment and management of invasive aquatic plants.
More on his research productions can be found at : https://www.researchgate.net/profile/Florien_Nsanganwimana/research.