Request for expression of interest(Teaching services - Pool of Trainers)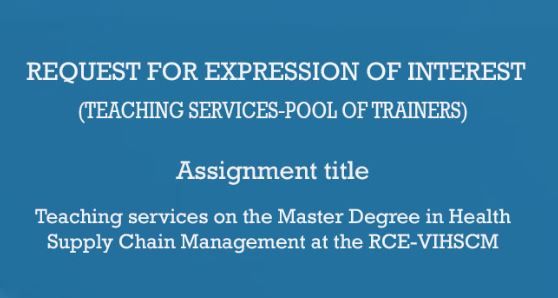 The University of Rwanda (UR) has been tasked by the EAC to operationalize the RCE-VIHSCM under a financing agreement with the German Development Bank (KFW).
The goal of the RCE-VIHSCM is to contribute to solving existing performance challenges in Immunization and Health Supply Chain Management system in the EAC Region through the generation of knowledge and its translation into practice, policy and research.
In this regard, the centre is offering short-term training programmes and is running a 2-year Master degree programme in Health Supply Chain Management (blended training programme combining both face-to face, distance/online learning, field attachments and operational research).
29 students from the East African Partner States, Southern and West Africa are enrolled in the ongoing first intake. Additional classes will start in April and October 2019, respectively.
To leverage expertise from the global supply chain community, the Centre will use part of KFW funding to hire experts to deliver face to face sessions, online facilitation, supervision of filed attachments and supervision of students' research projects.
The teaching services described under this Expression of Interest (EoI) cover the following modules and the detailed modules description can be obtained upon request :
Module 1 : Introduction to Health Supply Chain Management
Module 2 : Health Products & Technologies selection, quantification and procurement.
Module 3 : Storage and distribution
Module 4 : Introduction to human resources management
Module 5 : Field attachment
Module 6 : Equipment Management
Module 7 : Resources Management
Module 8 : Leadership and professional management
Module 9 : Strategic procurement
Module 10 : Field attachment
Module11 : Applied research method
Module 12 : Optimisation of health supply chain management systems
Module 13 : Integration of new technologies in health supply chain systems
Module 15 : Applied research project (Masters Thesis)
The content for each module will be provided as well an orientation to the content prior start of the assignment.
The University of Rwanda (RCE-VIHSCM), invites eligible expert, to express interest in covering one module or more
Interested experts must provide information indicating that they :
Have earned doctoral degree (PhD) in procurement, logistics and supply chain management, resources management, public health, pharmacy, with a working/training experience on health and immunization supply chain management. A Master's degree with more than 5 years working/training experience in immunization and health supply chain management, can be considered.
Have proven experience with teaching and curriculum development in higher learning education. Experience in developing and delivering professional short courses may be considered.
Familiarity and experience with innovative teaching methods, such as team-based learning and problem-based learning, blended learning, formative assessment, peer instruction, or online learning
Track record of research productivity with peer-reviewed publications
Fluency in English required ; French or Kiswahili language skills desired but not mandatory
Have the necessary skills (professional certification in specific topic area)
An attractive teaching allowance and transport facilitation to/from Rwanda will be provided .
Interested experts may obtain further information from the address below during office hours 08.00 a.m to 5.00 p.m Kigali (GMT+2).
The RCE-VIHSCM Training Coordinator
Regional Centre of Excellence for VIHSCM
Email : pclaver.kayumba@gmail.com
Expressions of Interest must be deposited at the University of Rwanda, Regional Centre office at Kicukiro Campus (Kigali-Rwanda not later than 29 March 2019 at 5.00 pm Local time (GMT+2) and clearly marked with the title of the assignment and addressed to :
The RCE-VIHSCM Director
Regional Centre of Excellence for VIHSCM
University of Rwanda
KK 19 Av
Kigali, Rwanda
Mail : jhabagusenga@nursph.org
Or in Soft-copy to : jhabagusenga@nursph.org
With a copy to (CC) : pclaver.kayumba@gmail.com and jngenzi7@gmail.com
Done at Kigali on 07/03/2019
Habagusenga Jean d'Amour
Director
Regional Centre of Excellence for Vaccines, Immunisation
and Health Supply Chain Management
Request for expression of interest(Teaching services - Poll of Trainers) read more