The Centre of Excellence for Biodiversity and Natural Resources Management (CoEB) was entrusted to UR's College of Science and Technology in 2017. The decision was reached after intense stakeholder discussions and assessment, with support from UNESCO. The idea for its creation originated from the first International Research Conference on Biodiversity held in Kigali July 2007.
During his speech at the conference, President Paul Kagame introduced the idea of the Centre of Excellence in Biodiversity and Natural Resource Management. The Head of state then tasked all stakeholders in environment and biodiversity to develop a resource centre with a mission to develop and generate knowledge through research and monitoring in biodiversity and natural resources.
For the three years it has been at UR, the Center has so far published various research papers and hosted a number of workshops on biodiversity. Currently, it is developing the first Rwanda Biodiversity Information System (RBIS) with help from a three year grant by the JRS Biodiversity Foundation to the tune of USD334,000. The vision is to make biodiversity data accessible for research, education, land use planning and management, to inform policy and tourism activities as well as early detection of environmental change. Biodiversity, the variety of life on earth including plants, animals, human beings and their interaction is critical to the of ecosystem– clean water, erosion control, pollination, clean air, soil fertility, etc. – on which sustenance of healthy human life greatly depends.
In a brief interview with Professor Kaplin Beth, director of the CoEB, she tells us the origin of the project and its advantages for biodiversity management. Below are excerpts.
Q1. Why was the Centre of Excellence in Biodiversity and Natural Resource Management entrusted to UR ?
KB –The Government of Rwanda entrusted the Centre to the UR after a series of stakeholder meetings, because it is an academic institution with BSc and MSc training programs in biodiversity conservation, with students and academics who conduct research. Furthermore the university has a mission of teaching, research and outreach. The Centre is serving as a link between biodiversity, science and policy.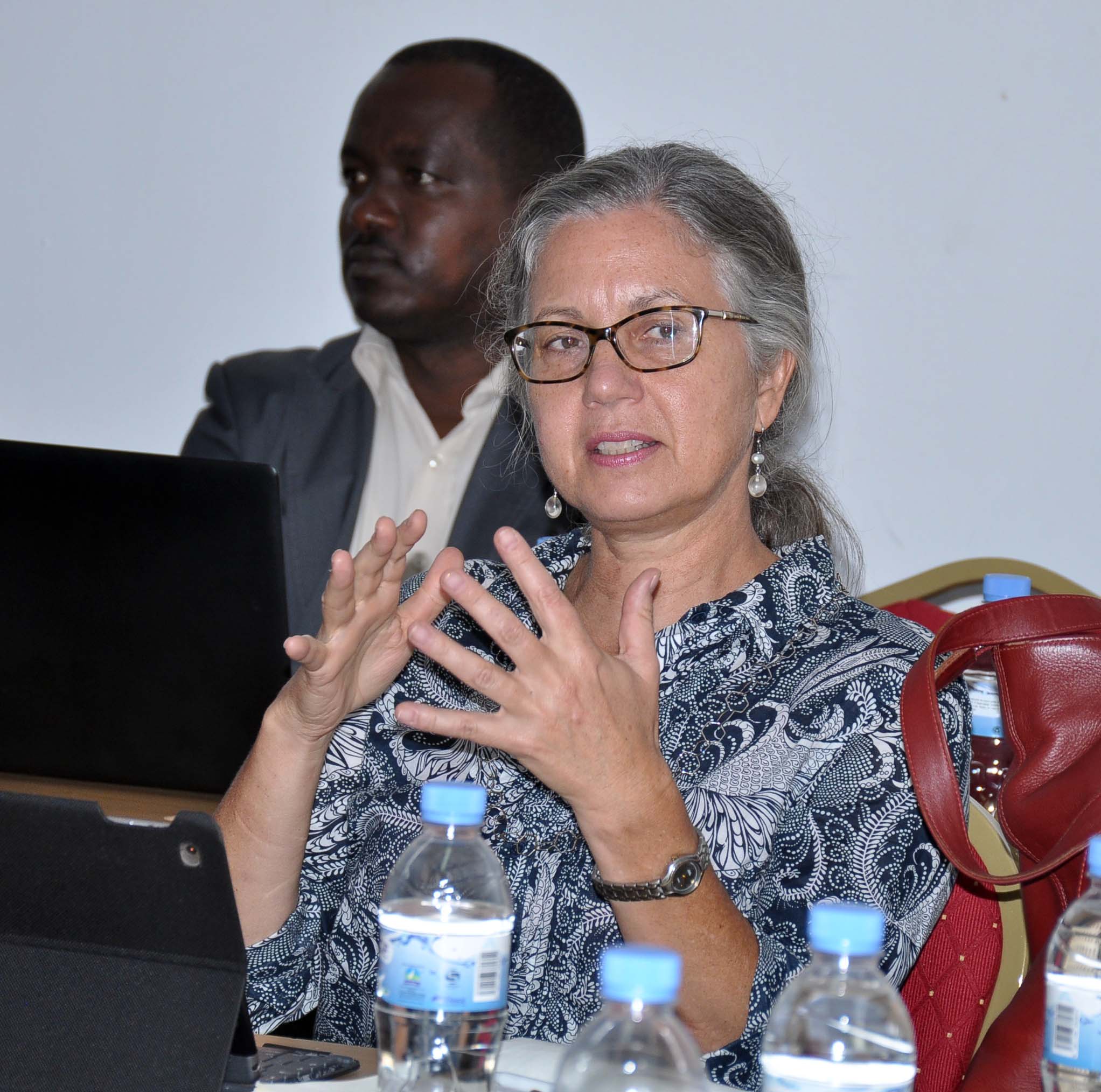 Professor Beth Kaplin, Director of the CoEB
Q2 : What is National Biodiversity Information System ?
KB – This project will make all Rwandan biodiversity information available. With this biodiversity information system the Centre and any system users will be able to produce maps showing the distribution of plant and animal species in Rwanda, along with land uses and other data layers. Maps will show places to be protected, change over time based on selected bio indicators, and help decisions makers in environment protection. We are creating a community of practice for biodiversity data sharing, management and application in the country with this RBIS.
Q3 : What are advantages of a National Biodiversity Information System for the country and region ?
KB – Rwanda and the whole region will have science based required information on biodiversity to help in planning development, tourism, resource management and detection of change over time based on changes in biodiversity. The system will also help to mobilize local populations who can participate in monitoring and environmental protection. The main threat to biodiversity is human activities.
For more information on UR's Centre of Excellence for Biodiversity, you can browse here
Story by Eugene Hagabimana
In charge of Communication and Community Engagement
Huye Campus