For the first time the University of Rwanda organized the Career Summit, an event that brought together thousands of students to meet their potential employers and entrepreneurs. The event featured a series of lectures, presentations from employers and self made entrepreneurs to share their experience and realities on the current job market.
In his opening remarks, the UR Vice Chancellor Dr Kayihura Didas reiterated UR commitment to engage with industries and entrepreneurs to understand the needs and requirements on the job market. He also called on students and graduates in attendance to tap into available opportunities in their respective disciplines and transform them into business opportunities.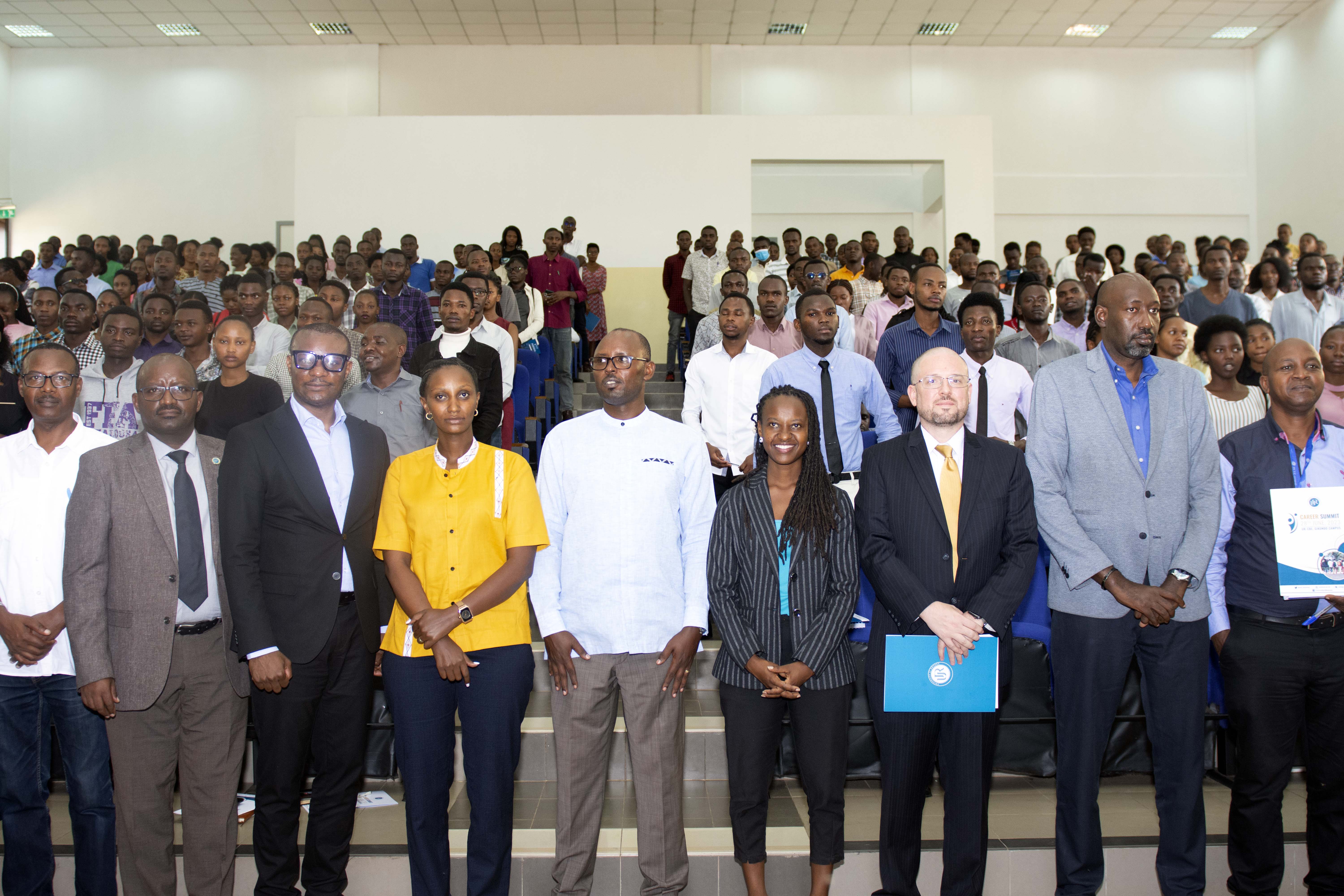 Students, UR officials and delegates pose for a group photo
"We have imbedded entrepreneurship subject in every program taught at the University because we believe that any field can be transformed into business opportunities," said the Vice Chancellor.
The Vice Chancellor went on appreciating the university partners who played a significant role in the organization of the event for which he revealed will be held every year. Among the key participants included Rwanda Development Board, Bank of Kigali, Feed the Future Rwanda/Hanga Akazi Activity, Toyota and others.
The guest speaker was Timothy Shumaker, the Chief of Party of Feed the Future Rwanda/Hanga Akazi Activity who was the main sponsor of the event. Speaking on the occasion, he noted that Hanga Akazi Activity aims at facilitating the provision of internship opportunities and work force readiness.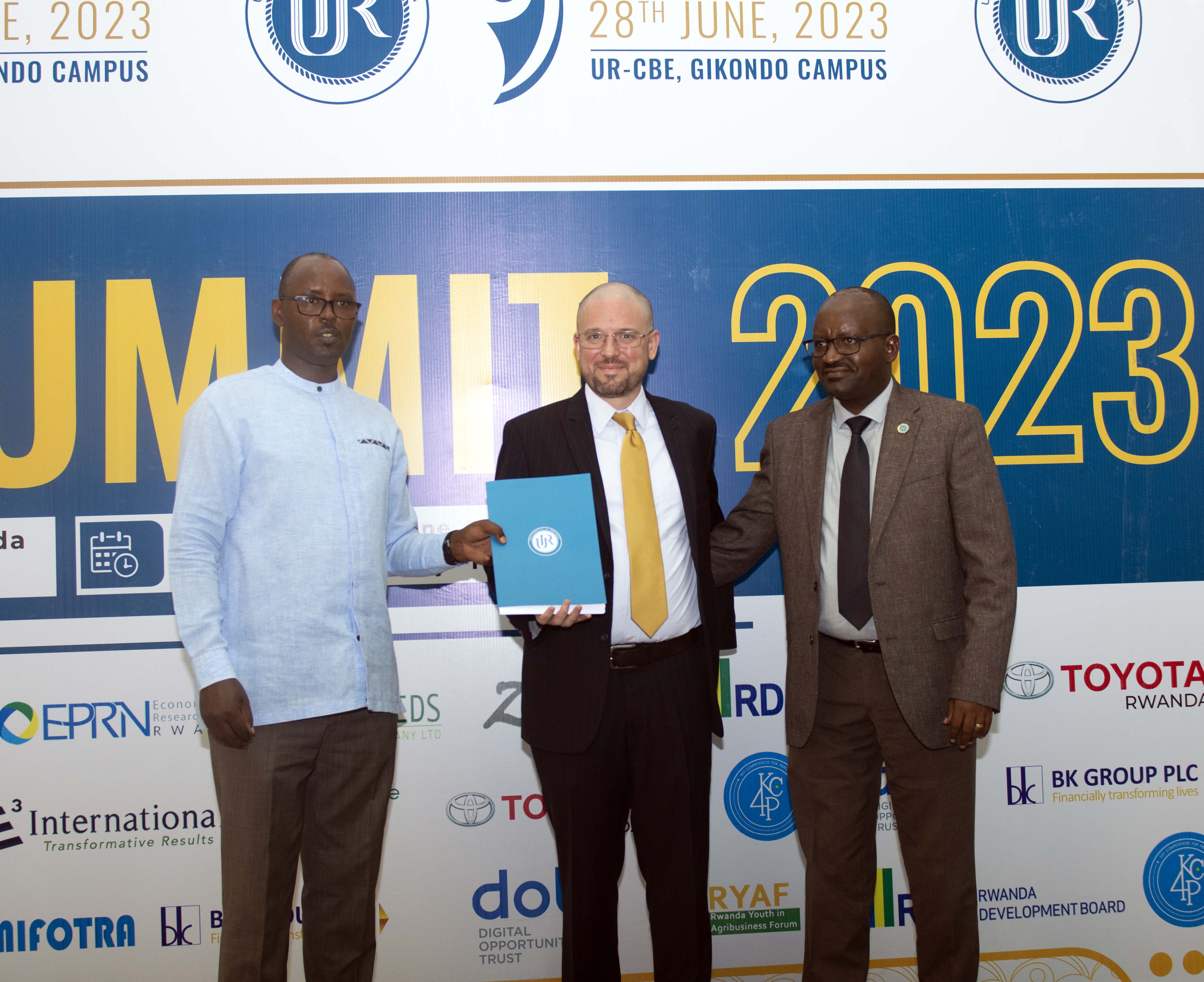 The Summit marked the unveiling of MoU between UR and Feed the Future Rwanda/Hanga Akazi Activity : Represented by VC Dr Kayihura (L) and Timothy Shumaker, the Chief of Party of Feed the Future and CBE Principal Dr Joseph Nkurunziza
Shumaker also revealed that Hanga Akazi is on the verge of creating around 42 thousands of jobs in Rwanda which makes the University of Rwanda a reliable partner in this initiative. Very recently Feed the Future/Hanga Akazi Activity signed an MoU with UR to enhance the business enabling environment to drive inclusive entrepreneurship opportunities and job creation in Rwanda.
On the sideline of Career Summit presentation and discussions also held an exhibition featuring various renowned companies as well as upcoming young entrepreneurs who massively turned up to showcase their innovative projects.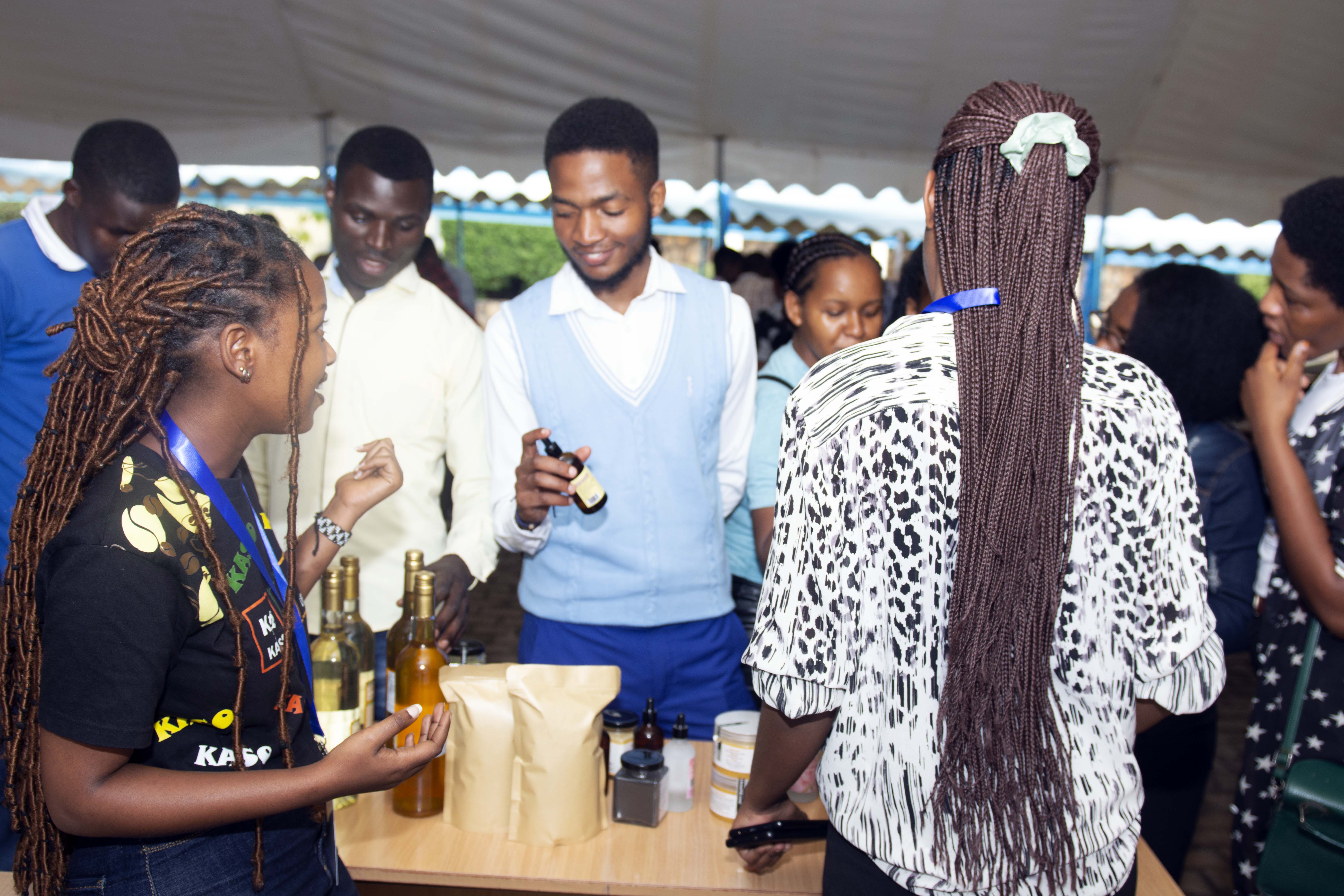 One exhibitor showcasing her products