Through the Ministry of Education's campaign for quality Education, on Thursday 07th February, 2019 the Minister of Education Hon. Dr. Eugene Mutimura paid a work visit to the University of Rwanda, College of Agriculture, Animal Sciences and Veterinary Medicine (UR-CAVM)/ Busogo Campus in the Northern Province. Being one of the six colleges of the University of Rwanda, and having schools on three of UR Campuses (Busogo, Nyagatare and Huye) ; UR-CAVM offers STEM agricultural and Animal Sciences programs.
In her welcome remarks, the Principal of the College briefed the Minister and HEC representatives on UR-CAVM achievements, programs, statistics, current and future projects. These include programs reviews, establishment of Centres, formation of new schools and postgraduate programs in partnership with the private sector, industries and other national and international Universities.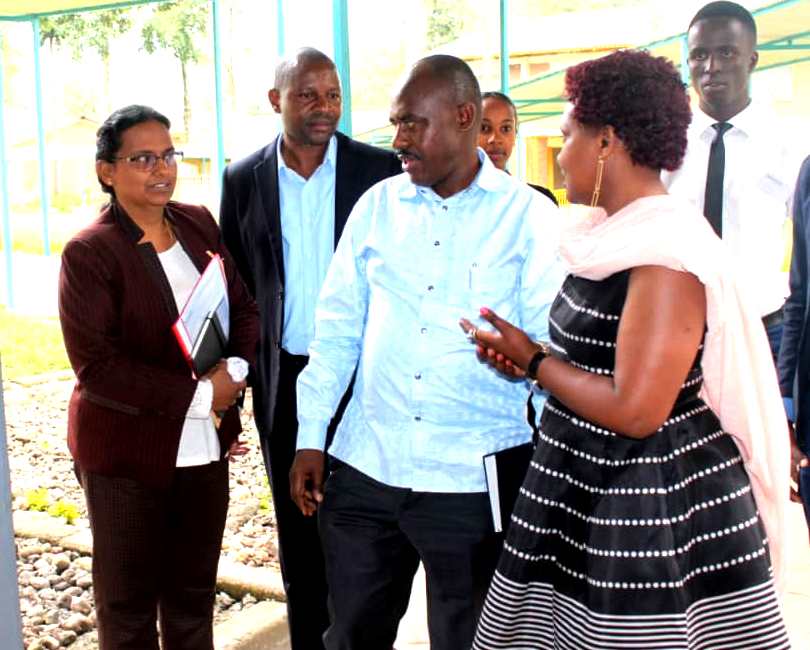 Dr Nyinawamwiza (R) introducing CAVM staff to the Minister (C)
The Principal highlighted a few challenges faced by the college and students in general, and pointed out that sustainable solutions are being provided by the University Management with the support of the Ministry of Education and other education and development partners.
In his address to students and staff of UR-CAVM, Dr. Mutimura asserted that the Government of Rwanda is committed to doing whatever it takes in terms of infrastructure, finance, knowledge and skills to ensure that students get quality education. According to him, the Government believes in current youth to be the next generation of leaders, investors and academicians who will ensure continuity and sustainable development as per the set vision and policies.
He therefore called on students to take advantage of provided facilities like laptops, internet and increment on their living allowance ; and study diligently to acquire knowledge and skills that will make them successful in the challenging 21st century labor market. Mutimura emphasized that high score and good grades should go together with the ability to communicate. On this note, students and staff were once again reminded to enhance their communication skills precisely in English as a medium of instruction.
To the management of the College, the Minister asked for students centered services, and students' exposure through enhanced industrial attachment and more practical sessions. Linkage to the private sector and industries was also stressed in order to ensure that graduates are linked to job opportunities and absorbed by the labor market, hence ensuring reduction of unemployment pressures to the national economy.
The Minister concluded his address by challenging academicians to perform more research, grants writings and use the available IT facilities to upload all taught programs online as E-resources that can help students to have quick access and perform better. He promised the Ministry's support, collaboration and advocacy to ensure that the University of Rwanda continues to offer quality education which paves a way to the country's sustainable development.