The University of Rwanda-College of Agriculture, Animal Sciences and Veterinary Medicine (UR-CAVM) in collaboration with the University of Veterinary Medicine Vienna (Austria) and the New Vision Veterinary Hospital, organizes for the first time a two days Symposium on "Mastitis Symposium" in Rwanda on the following theme : "Best Mastitis Management Practices for Safer Milk and Sustainable Dairy Production" at UR-CAVM Busogo campus.
The Rector of the University of Veternary Medecine Vinna with the Principal UR-CAVM
This symposium brought together University scientists, students, and partners from milk processing firms and industries, veterinarians, government institutions and the private sector. The symposium was a great opportunity for participants to share their knowledge and learn from each other. It emphasized on three following thematic areas :
Dairy Production,
Mastitis prevention and treatment
Milk hygiene and microbiology.
Recommendations of the symposium focused on putting in place a multidisciplinary National Mastitis Control Program. Through its implementation, the plan shall focus on mastitis diagnosis, appropriate treatment, practical prevention programs, educational trainings to farmers and extension service providers among others.
UR-CAVM Student and Staff following the presentations
After the two days Symposium the delegation from the University of Veterinary Medicine, Vienna accompanied by Jean Pierre Mpatswenumugabo, the coordinator for the Mastitis Symposium, paid a courtesy visit to the Vice Chancellor of University of Rwanda .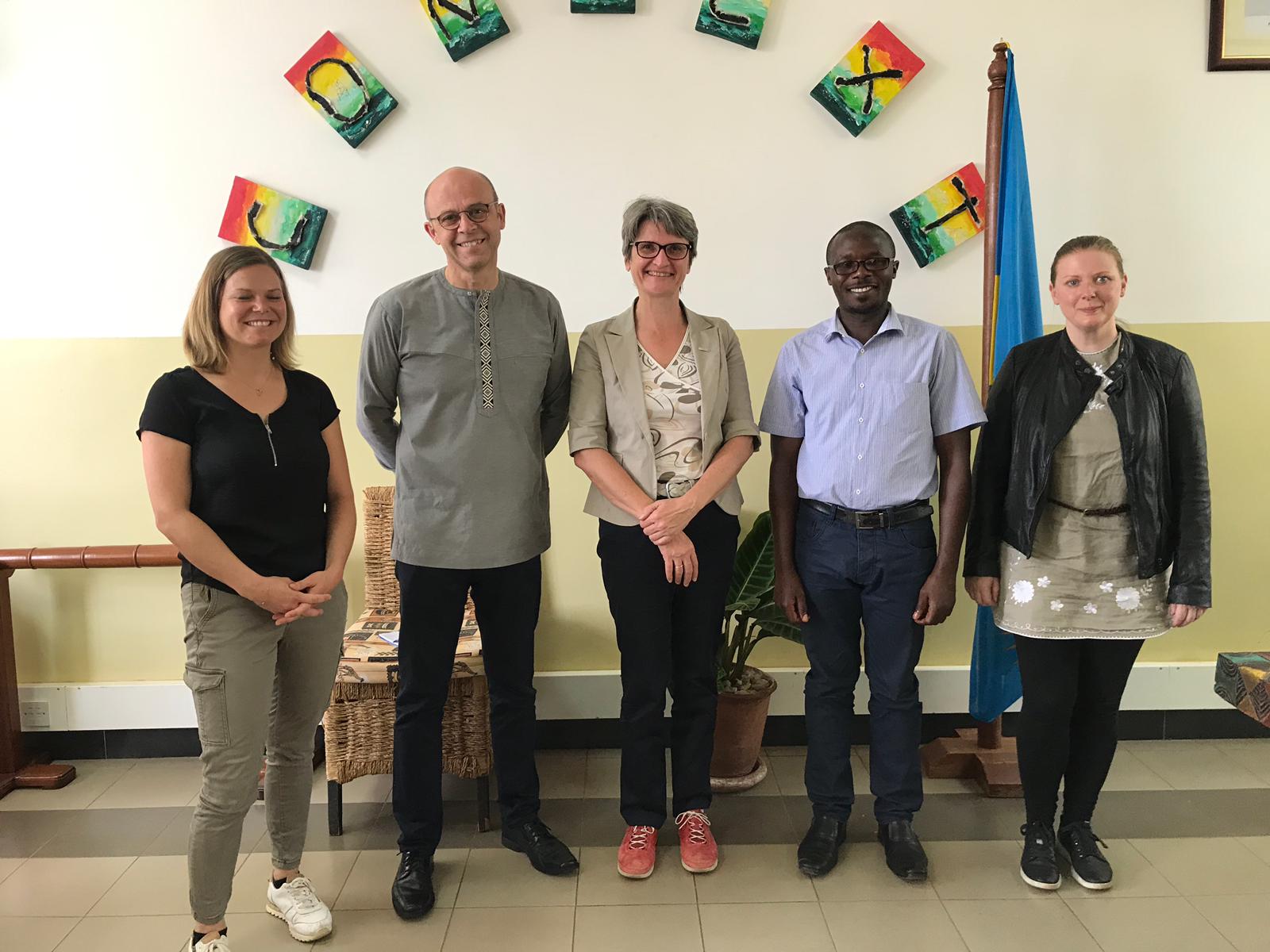 Prof Cotton with a delegation from the University of Veterinary Medecine Vienna

During their discussions, the Vice Chancellor urged the team to make sure that recommendations from the Symposium be implemented to bring change in the Dairy value chain.
Prof Cotton requested CAVM to work in consultation with the University of Veterinary Medicine, Vienna and the New Vision Veterinary Hospital to review the current Veterinary Curriculum which is delivered at the University of Rwanda and to start planning for the next Mastitis Symposium and to involve the UR centre of Data Science.
The Vice Chancellor concluded by thanking the CAVM and Vetmeduni for the initiative and recommends long term collaboration between the two Universities.
Report by : Jacqueline UMUPFASONI