University of Rwanda upholds that staff and students with disabilities and other special needs are equal and able to participate in all UR programs and activities. UR is therefore committed to ensuring quality inclusive teaching and learning. This is clearly stated in its Policy and Procedures for supporting its staff and students with disabilities and other special needs. In the framework of effective implementation of the policy, a one day workshop was organized on 25 October 2019 at UR-Rukara for harmonization of inclusive teaching and learning across UR Campuses.
The workshop was facilitated by Dr. Evariste Karangwa, Dean of the College of Education's School of Inclusive and Special Needs Education. Participants were updated on the previous workshop activities and achievements and briefed on MINEDUC and UR Policy on Inclusion as well as IUCEA Policy and Guidelines. They also shared experiences on cases of special needs among the students
and staff in their respective campuses as well as ways to handle them.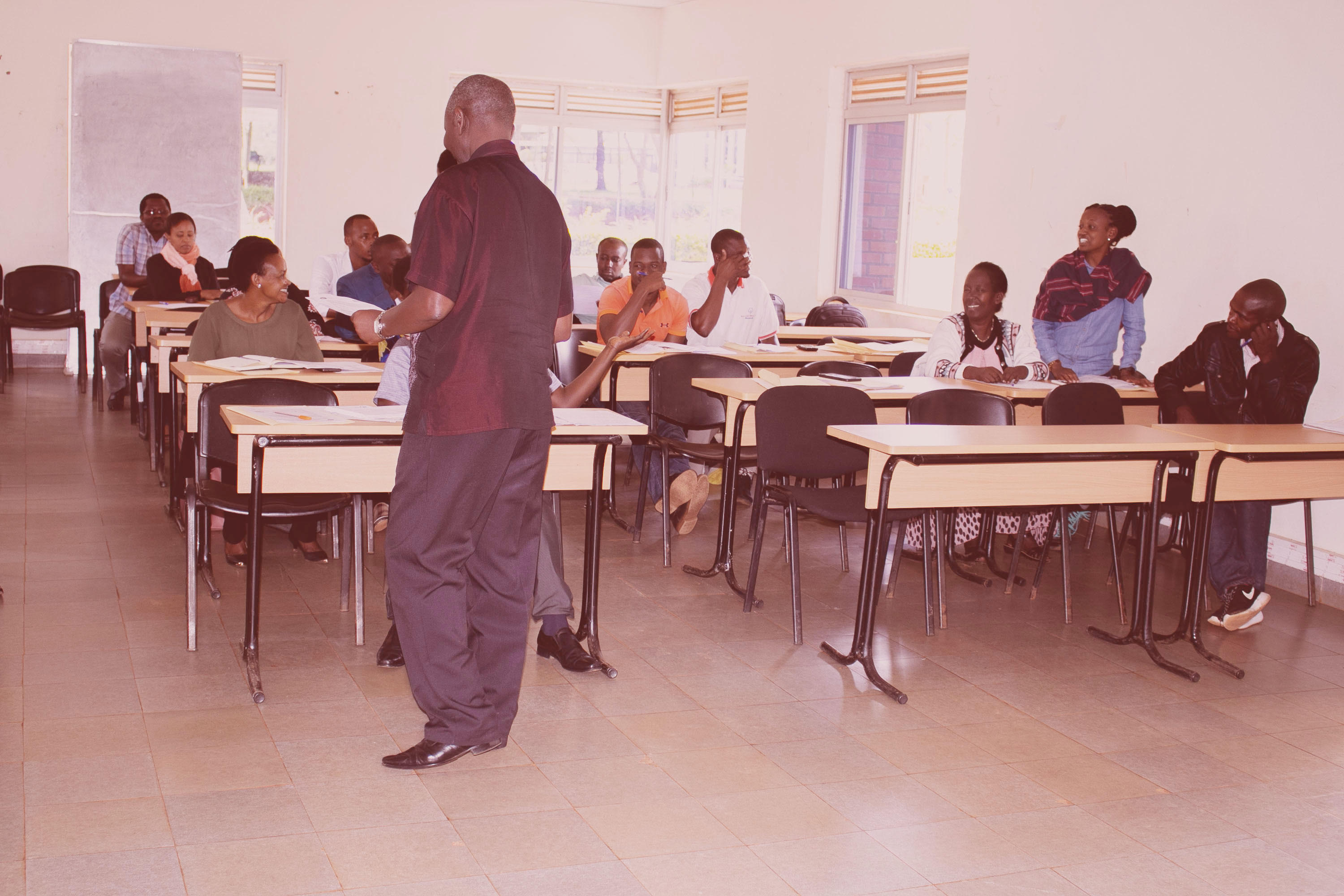 Dr. Evarist Karangwa exchanging with the workshop participants
Dr. Karangwa (Dr. K.) accepted our invitation for interview. Hereafter its transcript for further information on the subject.
PRO (Public Relations Officer) : The University of Rwanda-College of Education based at Rukara Campus hosted today a workshop in which you were the main facilitator. What was the focus of this train and what was its objective.
Dr.K. : The University of Rwanda has developed policies and procedures for supporting its staff and students with disabilities and other special Needs since 2015, much of which has informed the IUCEA (Inter-University Council for East Africa) Quality Assurance Guidelines on Disability and other special needs for Higher Education in East Africa).
The workshop focuses on ensuring that effective teaching, learning and assessment takes place and entails that every student and Staff with Special Needs is identified and reasonably accommodated (supported) from the time of entry to the time of exit from anyone of its campuses. It is the second in a series of planned workshops aimed at hatching a harmonized program for the next academic year 2019-2020.
PRO : Who were the participants and what has motivated the organizer to select them among other UR staff members ?
Dr. K. : The UR Senior Management Meeting of 22nd March 2019 recommended campus-based staff to be in charge of inclusion and accommodation of students with disabilities and other special Needs. Therefore, today's workshop brought these together at Rukara Campus and along a students' representative and an officer in charge of students' affairs.
PRO : The University of Rwanda's community is busy with the preparations for the new academic year 2019/2020.The fact that you have organized this workshop in this period, is there any motivating factor or any other reason ?
Dr. K. : The University of Rwanda has had experiences with students who are misplaced in programs where their Special Needs may not allow them to achieve all program learning outcomes. There is, for example, the case of a CMHS student whose mental health challenges could not accommodate operation theaters. Another case is of a brilliant students in UR-CE whose severe speech difficulties cannot allow him to achieve the learning outcomes of key modules : Teaching practice. There has always been similar unfortunate cases in UR and other Rwandan educational institutions
The strategy intends to end such unfortunate mishaps in UR and avail appropriate support provisions to all its students with special needs in a sustained way.
PRO : What are the workshop's recommendations to the participants and /or to their respective Campuses ?
Dr. K. : Firstly, a road map was agreed upon to the effect that by 11th November 2019, all campuses will be endowed with a reports on special needs and requirements for all year one students, while the reports for the rest of the University students' community will be availed by 30th November, 2019.Secondly, identification and reporting tools were harmonized and approved by the workshop participants.
PRO : From what you said, it seems like Special Needs Education is going to be given more strength across UR Campuses than it was in past days. What challenges were there and what strategies were set to address them ?
Dr. K. : Inclusive Education is one of areas developing initiatives in the UR, and campuses were addressing these differently, or not addressing special needs at all for some. The new development thus, is the UR harmonization strategy in all its campuses, and the UR CE School of inclusive and Special Needs has been entrusted with the responsibility to carrying out the task.
PRO : Is there any special message for the students with disabilities who will join the University of Rwanda during the academic year 2019/2020 with regard to their cases ?
Dr. K. : Equalization of opportunity constitutes the fundamental values that underlay the constitution of the Republic of Rwanda and all its international partners. The Inclusive Education initiatives in the University of Rwanda's teaching and learning addresses is part of the requirement.
Thank you.
Story by
NTIRANDEKURA Schadrac
University of Rwanda-College of Education