The African Centers of Excellence (ACE) at University of Rwanda have featured in the 16th edition of AfricaGIS 2019 exhibition in which they showcased different postgraduate programs that are offered at each Center in a bid to significantly address regional challenges.
The exhibition is one of activities that were conducted during the 16th edition of AfricaGIS 2019 organised by the University of Rwanda's Centre for Geographic Information Systems and Remote Sensing (GIS) in collaboration with EIS Africa which took place in Kigali from 18th to 22nd November 2019.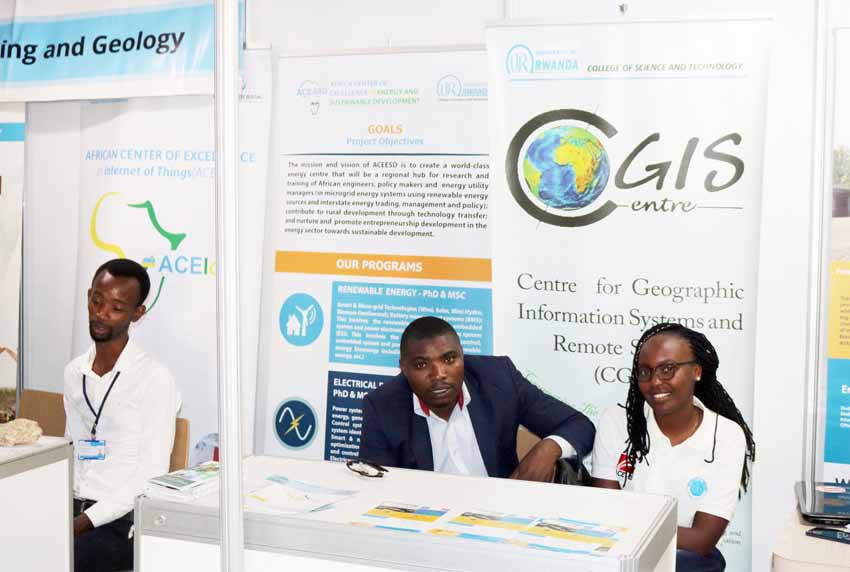 ACE exhibition stand
These African Centers of Excellence that featured in this exhibition are the African Center of Excellence in Data Science, Internet of Thing, Energy for Sustainable Development and Innovative Teaching and Learning Mathematics and Science.
During the five–day exhibition, these Centers have highlighted their different programs to participants to the conference from all over the world and explained the intended impact to the community in the region and the entire Africa.
"I feel much interested in Internet of Things. I am going to interest my son so that next year he may join the Center. I hope this brochure has full information that will help me convince him", says one of the participants after getting information about Centers.
AfricaGIS 2019 conference was meant to explore the role of innovations in geospatial information and its implication in addressing the 17 SDGs targets for an inclusive, prosperous and sustainable African continent.
In her remarks, the Rwanda Minister for ICT and Innovation Paula Ingabire noted that the Government's ambition is to place digital technologies and innovation as priority but also key drivers for economic growth.
The African Centers of Excellence is a World Bank-funded project that seeks to strengthen selected Eastern and Southern African higher education institutions to deliver quality post-graduate education and build collaborative research capacity in the regional priority areas.
story by
Jean Damascène NIYITEGEKA
Communication & Marketing Specialist
UR-African Centers of Excellence Project