UR Gikondo Campus Community and guests commemorated the 25th Anniversary of the 1994 Genocide against the Tutsi in Rwanda. This event was held at Gikondo Campus playground on the 09th April, 2019.
The Commemoration event began with a Walk to Remember from UR Gikondo to Rugunga and back to Gikondo. Carrying a banner with this year's theme "Remember-Unite-and Renew" the UR Community were joined by surrounding community in a one hour walk in Gikondo. UR Vice Chancellor Professor Philip Cotton and the Deputy Vice Chancellors vigorously participated in the Walk.
Professor Philip Cotton Vice Chancellor & students during a Walk to remember
UR Community in a Walk to remember
Upon their return from the Walk to remember, the participants in this Commemorative Ceremony took a moment of silence before proceeding with prayer and speeches from various officials, songs and Wreath Laying on the Genocide Monument in remembrance of students and staff killed in 1994 at Gikondo Campus formerly known as National University of Rwanda Mburabuturo Faculty of Law.
SHYAKA Albert , AERG Coordinator UR Gikondo Campus
In his address to the audience, Mr. Shyaka Albert, the Coordinator of the Students' Association for Genocide Survivors (AERG in French Acronym) thanked all participants for joining in the Commemoration activities and asked them to fight genocide ideology and make sure Genocide does not happen again in our country. He extended his thanks to the UR Management for their support in organizing this Commemoration, the Rwandan Government which through the Fund for Genocide Survivors' Association (FARG in French Acronym) supported and sponsored the 1994 Genocide survivors till they reached Higher Education. Last but not least is the Rwanda Patriotic Army (RPA) which stopped genocide and rescued the Tutsi who were in danger. He also thanked RDF which continues to protect them and keep security in all the Country.
Prof. Phil Cotton, addressing the participants
In his address to the participants, Prof. Phil Cotton said "we come to this place to remember ; we come to this place to offer comfort, remember those people who lost their lives in the Genocide against the Tutsi and those people who gave their lives that we might be free".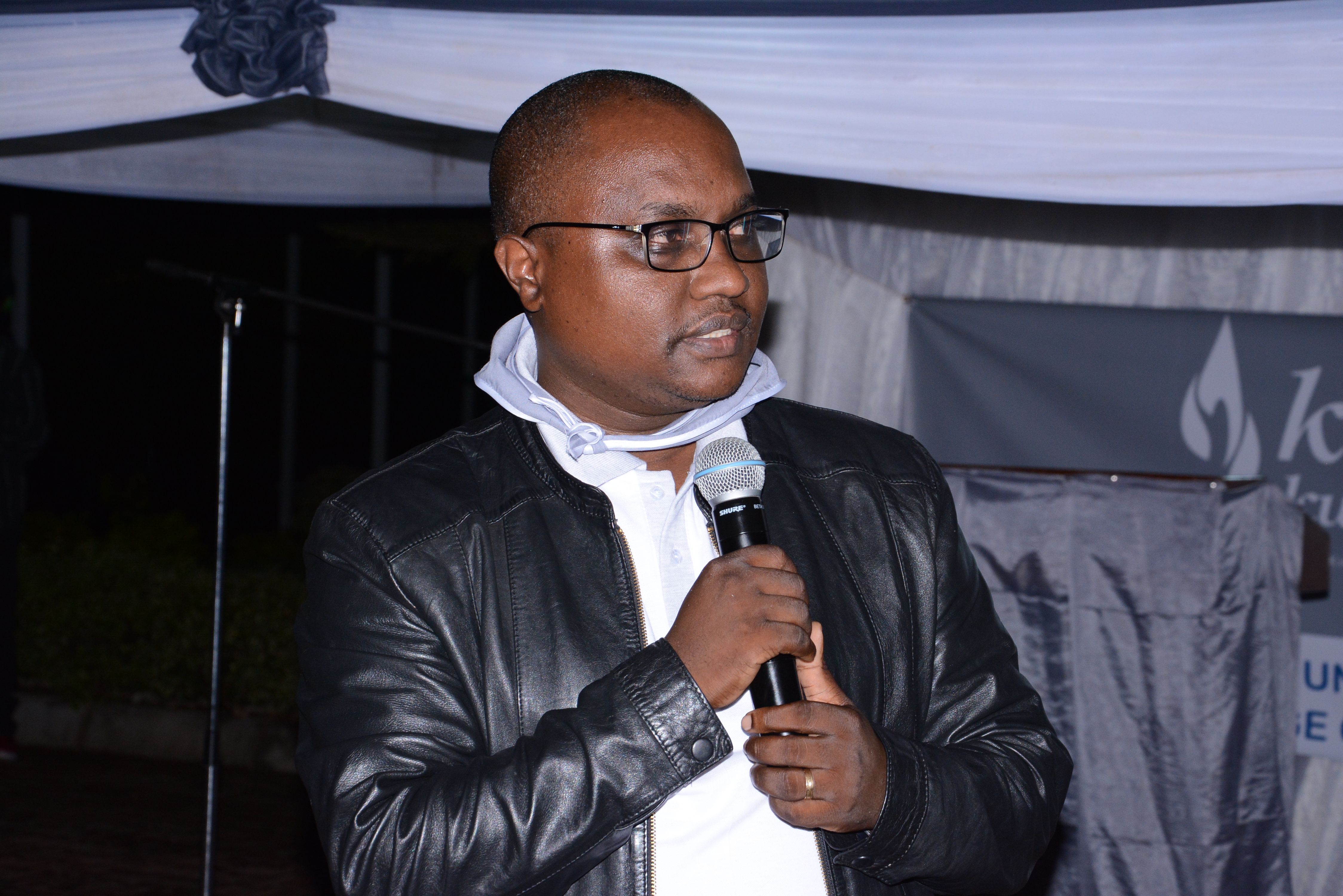 Dr Ngabitsinze Chrysostome, Guest of Honour speaking at the event
The Commemoration event was also attended by Dr. Ngabitsinze Jean Chrysostome, the Chairperson of the Public Account Commission in Parliament who was also the Guest of Honor. He spoke on behalf of the speaker of Parliament the Right Honorable Mukabalisa Donatilla who thanked the UR Management and all those who invited her though she could not attend due to other responsibilities. In his speech, Dr. Ngabitsinze gave an overview of the history of Rwanda that was characterized by bad politics which organized and put into action the Genocide against the Tutsi. He concluded his speech by asking the youth to work hard to build the country and support the current politics which gives opportunities to all Rwandans.
The audience later listened to an emotional testimony from Innocent a Genocide survivor, who thanked the Government for restoring respect and dignity to Genocide survivors. Other planned activities include a visit to the families of Genocide survivors in Eastern Province , Nyamata on Friday, 12th April, 2019
More event photos