During their visit at the University of Rwanda, Professor Timothy John White and Professor Wander from Nanyang Technological University (NTU) from Singapore, were shown around. They Toured through labs and innovation hub that holds bridge of innovations, where student pitch different startups, projects and solutions, that support students research. The delegation was taken through how the University work hand in hand with the students and help them to put on market different things they come up with from the lab up to being beneficial solutions to the community.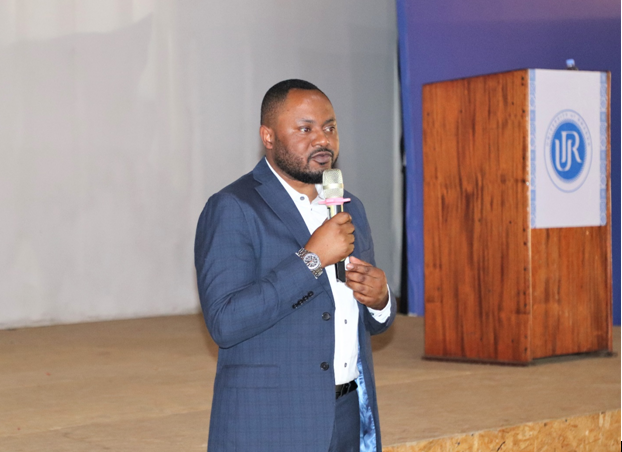 Dr. Raymond Ndikumana giving his opening remarks
In his opening remarks during the academic seminar, the Deputy Vice Chancellor for Strategic Planning and Administration, Dr. Raymond Ndikumana reminded ongoing students and recent graduates to grab opportunities that come from this partnership, as it is supported by the Government of Rwanda. He appreciated the NTU for providing the scholarship opportunity, and greatly commended HE Paul Kagame who negotiated the collaboration on behalf of Rwandans.
Professor Tim White speaking to participants in the seminar
While delivering his speech, Professor Tim White who is the Co-Director of the Energy Research Institute at NTU encouraged the integration of online learning with different enhanced learning approaches to accelerate the learning process towards achieving intended learning outcomes.
"Students of today don't learn necessarily for the sake of learning ; they are learning for achieving something in the community and in the world", said White.
Rwanda is part of a global partnership and collaboration at the international level with the Singaporean government as it was signed in an agreement by the Ministry of Education representing Rwanda and Nanyang Technological University (NTU). This allows Rwandan students to get opportunities to study at the academic institution starting with 2023.
Story by
Mutamuliza Daniella
Intern in UR Communication Department