The University of Rwanda (UR) has got a 'smart classroom' located at Gikondo Campus expected to make learning easier for students in Master of Economics.
The smart classroom initiative seeks to equip Rwandan schools with ICT infrastructure that facilitates digitalization of learning and teaching processes.
The smart classroom project was launched in 2018, with an aim of integrating ICT pedagogy and skills in education. An online platform, named smart class, was also established, with a view to facilitate students to access learning materials even when they are not physically at school.
The smart classroom officially inaugurated at Gikondo Campus on 12th June 2021 was built in partnership with The Deutsche Gesellschaft für Internationale Zusammenarbeit (GIZ) GmbH and UR with a view to facilitate students' attendance to virtual classes particularly for lecturers from Kiel University and Institute for World Economy teaching from Germany.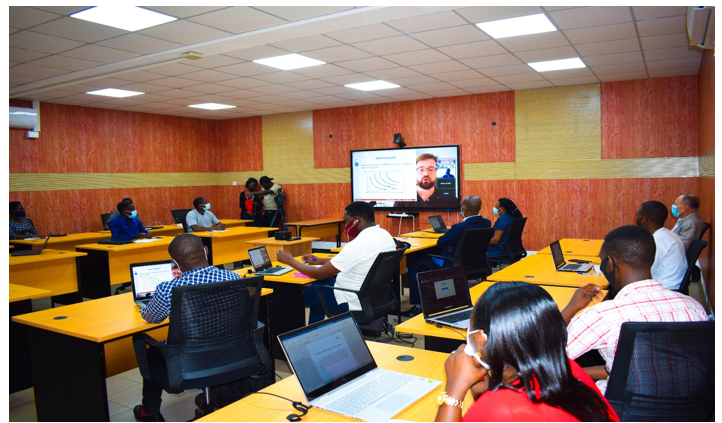 Smart classroom
GIZ has been partnering with UR in the areas of research development, distributing books for students, computers among other didactic materials aimed at promoting quality education.
Ksenija Maver, the Project Leader, Macroeconomic and Investment Policies Program (MIP) has explained that the room aligns with existing initiatives to promote technology and facilitate e-learning.
"As you have seen, this classroom is equipped with advanced technology helping students to attend online classes from Kigali while the lecturer is based at Kiel Institute. With the technology, learning online is almost the same as attending classes physically. It is very much needed particularly during COVID-19 to continue classes even when there is no physical class," she said.
Ksenija stated that the smart classroom will also be used by other students in different programs and the university management meetings held virtually.
A lecturer in the department of Economics at UR, Dr. Charles Ruhara has said that the classroom gives relief to students who would hardly have access to internet to attend online classes.
"Learning online has been recommended due to COVID-19 but some students would not attend classes appropriately due to slow internet or the teacher would be unavailable. With the smart classroom, e-learning will go smoothly," he noted.
Dr. Ruhara revealed that one classroom is not enough for all students that more will be built depending on available means.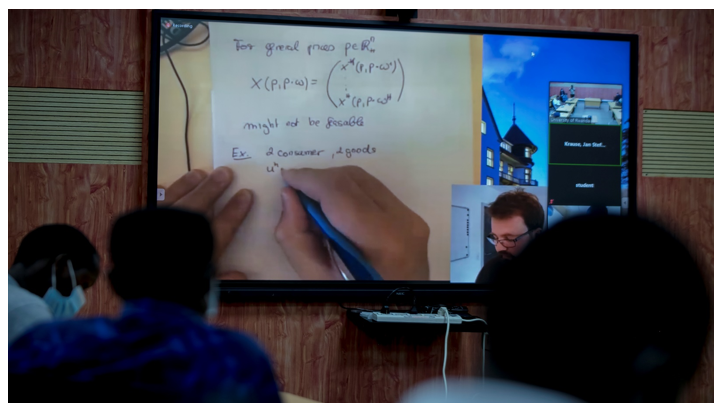 Students follow lectures virtually
One of Masters students, Sebeza Celestin said that the classroom comes in
handy because some of them did not have laptops to follow up courses.
"The smart classroom is very helpful. With it, we are optimistic for improved performance while students will be concentrated during classes without disruptions, hence, improving quality education," he observed.
GIZ has since 2018 provided over US$ 1 million funding to the University of Rwanda in different areas including construction of the launched smart classroom and scholarships for Masters students among others.