Elisa Tumwesigye, a graduate of University of Rwanda specialising in Botany and Conservation, has managed to create jobs in biodiversity conservation and inspired Rwandan and Central African Republic youth to start income generating activities protecting the environment.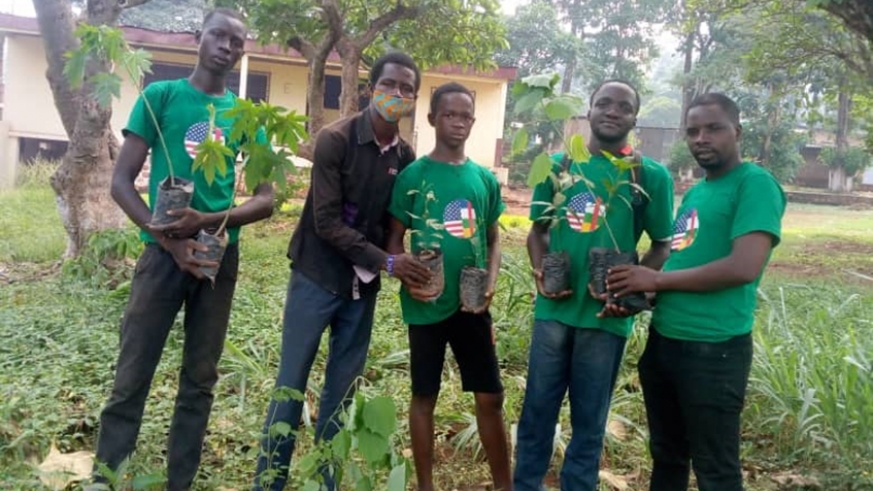 Tumwesigye on right side poses for photo with youth in Central African Republic
Doing Business recently caught up with him following his return from from Central African Republic where he had taken his skills after being recommended by Centre of Excellence in Biodiversity and Natural Resources Management hosted in University of Rwanda.
Insecurity and COVID-19 in the Central African Republic (CAR) had prompted youth into poaching wildlife and therefore Rwandan young graduates were among many deployed youth to train CAR youth on creating new income generating businesses as an alternative to poaching.
Tumwesigye graduated in 2014 but because he had no permanent job he was involved in casual work related to nature conservation guided by a university lecturer in biodiversity.
It was until 2018 that he got a six-month professional internship that was provided by Rwanda Development Board which strengthened his passion in biodiversity conservation.
"Each internee gets Rwf50, 000 facilitation every month. Out of this, I committed to gradually save a small portion. I had planned that I would spend the saved money to put into practice my skills in conservation as a way of creating a job since I was not expecting to get a job immediately," he narrated.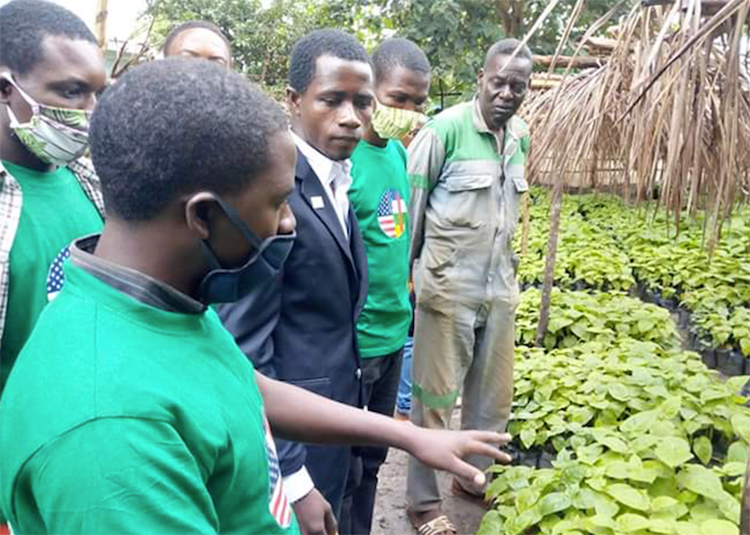 Tumwesigye trained Trained youth in Central African Republic who have already planted 21,000 saplings of fruit trees
He said that after realizing his passion and skills in conservation he got an additional internship where he gathered more savings.
From the savings, joined by 12 other young people they created a youth organization dubbed, "Social Actions for Environment Protection and Biodiversity Conservation" in 2018 working with youth and communities to plant trees, create school gardens and agroforestry for environment protection.
"The idea was to help youth and communities to create income generating activities that lead them to protect the environment. This means when they have income generating activities that feed them and provide money, they do not destroy forests or poach wildlife," he said.
Over 2,000 youth in tree planting business
He said he started with youth in schools across the country training them on building kitchen gardens and planting fruit trees in schools which they end up replicating in their homes.
In addition to fighting malnutrition, kitchen gardens and fruit trees create businesses that provide the youth and communities with income.
This, he said, is in line with the government drive to help every family to have a kitchen garden and at least three fruit trees.
"When the children and youth plant Tamarillo (tree tomatoes), it is a business that generates money from which they can also buy school materials and others," he said.
He said that so far, over 2,000 young students have been trained and planted avocado, tree tomatoes, lemon and mango trees from which they expect to earn.
He said they have planted over 6,000 fruit trees at their homes and schools in rural parts of Gasabo District.
He said that there is also a $25,000 project to be funded by UNDP that will engage youth in restoring degraded land by planting pineapples in Bugesera District, Mayange Sector.
Taking the skills to Central African Republic
In December, 2018, University of Rwanda brought 10 youth from Central African Republic Young African Leaders Initiative (YALI) to Rwanda to learn Rwanda's innovations for sustainable development and biodiversity conservation and they interacted with other 12 Rwandan youth on innovation and entrepreneurship including Tumwesigye.
It is in that context that Central African Republic youth invited him for training the youth.
In the end of 2019, he went to the Central African Republic under the support of University of Rwanda and the US Embassy.
"Because it is a country emerging from conflicts and war, environmental protection was not a great concern. I trained them on abandoning poaching. I trained them on starting income generating businesses as opposed to poaching. We developed nurseries for vegetables and fruits such as cabbages which they planted as business," he said.
Trained youth in the Central African Republic have already planted 21,000 saplings of fruit trees such as avocado, oranges, lemon, tree tomatoes and papaya as well as agro-forestry trees for charcoal.
At least seven environment clubs with 50 young people each and 11 associations of former poachers were created.
Beth Kaplin, Director of Centre of Excellence in Biodiversity and Natural Resources Management at University of Rwanda said that such efforts allow young people create their own jobs and other getting jobs in biodiversity conservation organizations.
Source :https://www.newtimes.co.rw/
editor@newtimesrwanda.com