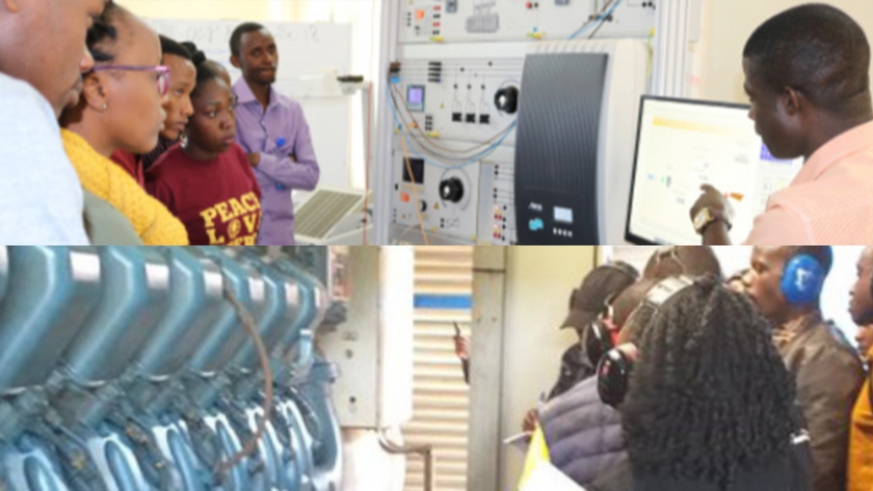 The African Center of Excellence in Energy for Sustainable Development (ACE-ESD) is a World Bank-funded project which intends to solve key economic challenges subsequent from low rural energy access, poor adoption of energy technologies especially in rural areas, and poor inter-state energy trading in the Eastern and Southern Africa region.
(ACE-ESD) is one of 24 African Centers of Excellence in Eastern and Southern Africa Higher Education Centers of Excellence (ACEII) Project funded by the World Bank, whose main aim is to generate a superlative energy Centre that will be a regional hub for exploration and training of African engineers and policymakers and energy utility managers (in micro-grid energy systems using renewable energy sources and interstate energy trading, management and policy).
The University of Rwanda emerged the winner in Rwanda to start courses in energy for both Masters and PhD to cause a solution in energy problems.
Prof. Dr. Eng. Etienne Ntagwirumugara, the ACE-ESD Director had an interview with The New Times to enlighten in-depth about the Centre, how students, entrepreneurs, and the regional community will benefit from it, challenges the Center is encountering and how they are likely to be solved, among others.
Briefly tell us about the African Centre of Excellence in Energy for Sustainable Development.
This Center was created for about two years and a half back. It is a government project in partnership with the World Bank. This phase II is operational in East and Southern Africa where we have around 10 countries. About eight countries applied. The call was to select at least 24 Centers of excellence, where out of these, Rwanda won four Centers of Excellence. Students from different parts of the world are eligible to be trained in these Centers.
The Center aims at training post-graduate students programs to work as a substance to achieve development goals mainly in the energy sector.
How many programs have this Center got ?
We have six programs : PhD and Master's Programs both in Renewable Energy, Electrical Power System and Energy Economics. Specifically, students from Energy Economics focus on energy benchmarking and energy policies. We also provide short courses in different energy-related disciplines.
Tell us, who is likely to benefit from ACE II specifically ACE-ESD.
The students in the participating Universities and their partner institutions across Eastern and Southern Africa are to benefit most from the strengthening of higher education and training in regional priority areas.
Employers in priority sectors, government and non-governmental organizations will achieve entree to extremely expert personnel and highest excellence applied research to advance productivity.
Communities in which the ACEs exist will also benefit from upgraded educational and exploration outreach of the ACEs, predominantly to school students. Faculty and staff in the ACEs will gain from enhanced teaching and research conditions and professional expansion opportunities.
But also, faculty and staff in STEM and related disciplines will be privileged to exchange visits and co-operation in teaching and research.
Regional institutions, for instance, Africa's Regional Economic Communities will be boosted from advanced quality input from the improved ACEs.
ACE hosting Universities will be merited from the stimulated the ability of their ACEs, and quality upgrading measures, like regional benchmarking with other institutions.
How many students do you have at this Centre ?
We are in the second intake. Our first intake came in 2017 and 2018, which had about 33 PhD students. All Master's programs were accredited in May 2017, where we started recruiting students for the first cohort. The first cohort is made of 45 students with full scholarship from the Center and the second cohort has 72 students fully sponsored by the Center, Higher Education Council or the Inter-University Council for East Africa (IUCEA).
For the PhD, 7 new students joined the Center during the second intake to have now 39 PhD students.
What makes this Center a unique form of Education ?
We have energy laboratories, if you compare the lab in the energy sector, we are the best. Students come from different parts of the world like Europe and the USA to use our labs. Our methodology of teaching is that after students being taught in the morning, they later learn through labs.
Our PhD Program is supervised through different partnerships, a student has a local supervisor, regional supervisor (from Africa), and an International supervisor (from Asia, Europe, America).
We have signed different Memorandum of Understanding with Higher learning institutions, Private Sector ; we also invite guests for public lecturing and teach other modules related to our programs.
We are making it a point that our MSc students will not graduate without publishing at least one research papers and PhD students at least 3 papers. We are looking forward to having skilled researchers, the reason why we are strict on research paper publication. The Center researches are linked with 17 Sustainable Development Goals.
What achievements have you acquired so far since the existence ACE-ESD ?
There are more international partnerships, bringing in different professors from different parts of the world, hence imparting various skills to students. The students are writing more proposals for income generations. At the moment we, for example, have imperial colleges where we won £1 million shared.
We also wrote a proposal under SIDA project and won € 1.7 Million. Not only this but also we won about USD 250,000 to establish an incubation Center under the Inter-University Council for East Africa (IUCEA) and the process has already started. This is another milestone towards skills development.
We anticipate having students create their own jobs but not roaming streets searching for jobs.

We are having more than 37 publications in different journals. We purchased different laboratory equipment and trained energy professionals. So far, we had two international short training in Smartgrid and Microgrid using the High E-Tech Smartgrid Laboratory that was attended by 130 students from different countries, where 50% were from Rwanda and 50% from Africa.
Tell us some of the challenges you are facing and how you are willing to solve them.
Since this is a new program, there are some challenges mainly the low number of female at PhD level. But after Master's students graduating the number will increase as some of them will continue at PhD level. The other challenge is that most of the lecturers are from abroad and this costs a lot. However, we need to have a partnership with students that after graduating, they will be employed to teach at the Center.

Will the Center help with the improvement of the education in Rwanda ?
Yes, of course. We have a good infrastructure with a digitalised methodology. We have 24 hours working internet, smart boards and labs among other facilities. We don't usually do face-to-face teaching ; rather we encourage students to be creative on a number of projects. Students are also using E-library, with all content material, this allows them to think critically and research further. We value projects more than the exam to encourage students to give the projects their whole time, and vitality.
source :https://www.newtimes.co.rw/