The event was also part of the Health Research and Policy Symposium organized by UR-CMHS, Partners in Health and Clinton Health Initiative in collaboration with the Rwanda Biomedical Centre. This also marked the official launch of the United for Health web based system that brings together researchers, students in health domains and partners in the health sector for collaboration in health research initiatives.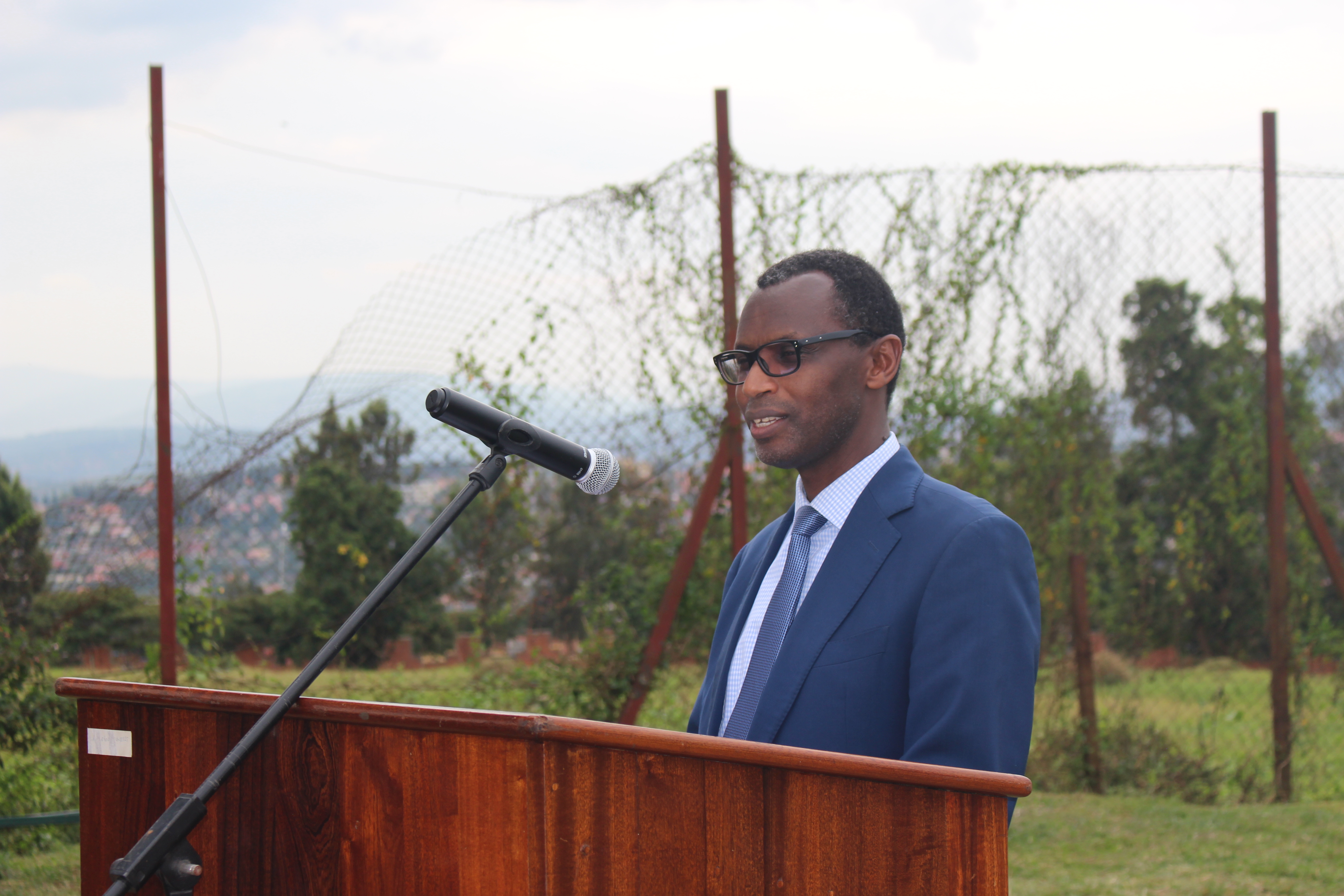 UR DVC Dr. Papias Malimba giving his remarks at the event
While launching United for Health platform during the career exhibition, the UR DVC-SPIA Dr.Malimba said modern education can never be delivered in isolation but through a meaningful and high-quality partnership with concrete collaborative goals that can expose students to an environment that will allow them to be professionals in the highest possible standard.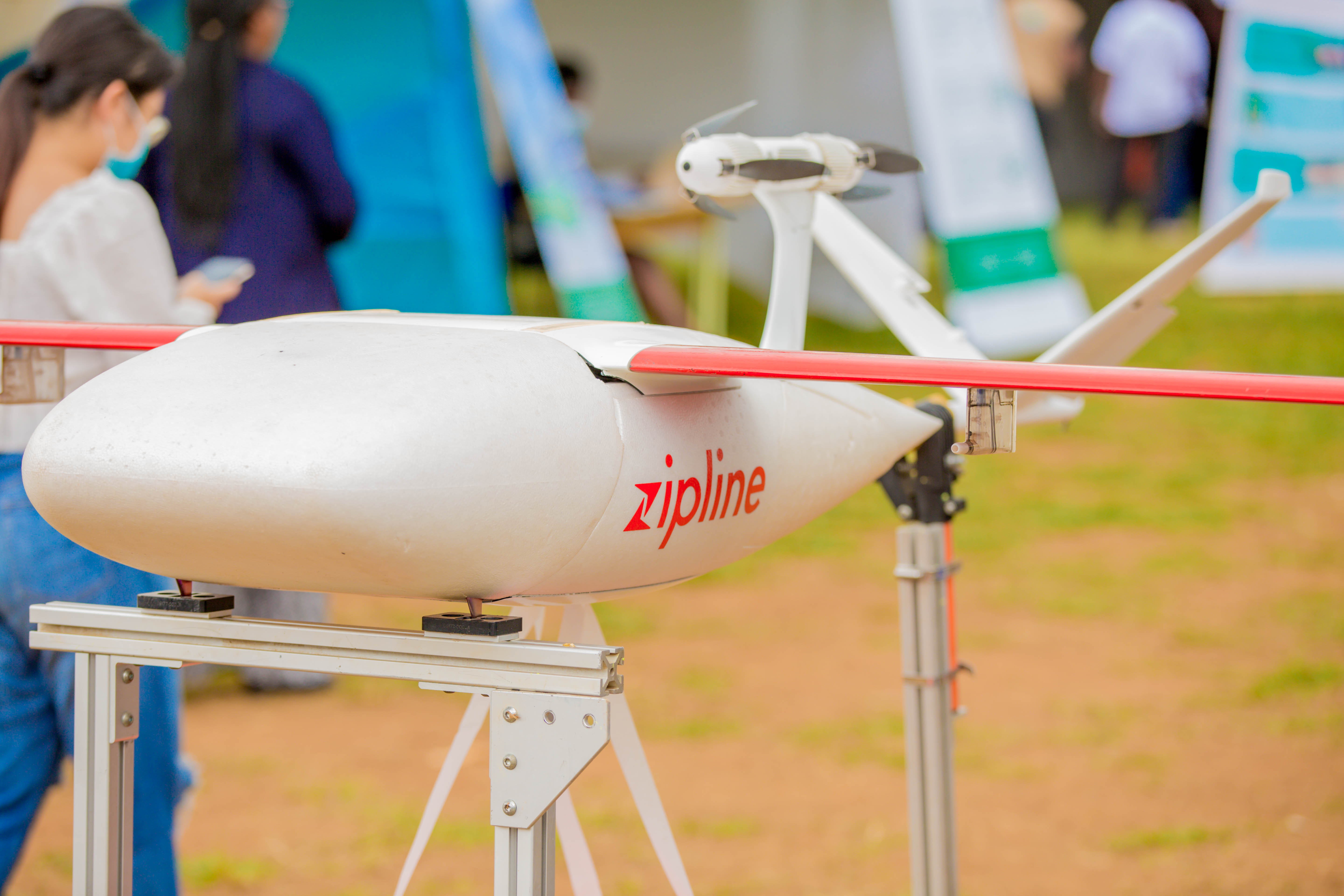 some of the partners, Zipline displayed the tools they use in operations
"This is a journey in which we need all partners to actively take part to make it make successful." he said." We often talk about innovation in the education sector and the united for Health initiative is a prime example of innovation and it demonstrates why innovation is necessary,"
He said the system of education needs to continually adapt to develop and prepare students to be ready to contribute positively to the Rwandan and global community.
He further said United for Health Initiative as a link between health systems and education sector will prompt University of Rwanda to be a leading academic institution that develops highly enterprising graduates.
He expressed that it is joyful for students to interact with multi-disciplinary sectors.
"The future of high-quality education is multidisciplinary and it gives me the joy to see so many secondary schools in the university of Rwanda interacting during this exhibition with actors from government and international institutions from NGOs, public sector, public and private hospitals and so many players here today," he said.
Commenting on the platform, the newly appointed Director-General of Rwanda Biomedical Centre, Prof. Claude Muvunyi said the cluster platform intends to connect all key players in Rwanda's health care system.
Prof. Claude Muvunyi, DG RBC adressing exhibitors and students
"We anticipate that the platform will be instrumental in the professionalism of students who benefit from the extensive expertise from the stakeholders."
"Our engagement with various stakeholders is key particularly RBC and UR to strengthen the health system and particularly College of Medicine and Health Sciences."
He called on stakeholders to strengthen the partnerships so as the synergy of the health sector and education be formidable and strong.
"We need to strengthen the platform and we hope that several other important initiatives such as research projects and innovative interventions will be developed and implemented," he said.
Besides the bilateral collaboration between RBC and UR, Prof. Muvunyi Claude said, the two institutions are building potential initiatives and international collaborations intending to strengthen institutional capacities.
"Such interactions give our students a deeper understanding of what is possible in professional life in terms of both quality and content of what they are going to do in the future," he said.
The event was also attended by the WHO Country Director in Rwanda, the ES of the Human Resources for Health Secretariat, more than 30 local and international NGOs working in the health sector and secondary school students from different schools such as FAWE girls, Rafiki Intenational, GS Kamonyi among others.
The CMHS Principal Assoc. Professor Jeanne KAGWIZA (second from left) welcomed guests
Photos