Dr Madeleine Mukeshimana is a senior Lecturer of Community Health Nursing ; currently working in UR's Directorate of Research and Innovation. Madeleine is an emerging senior nurse who has contributed much to the quality care improvement through her research outcomes. The recent research that has an impactful role on the Rwanda National Health System and improvement of quality care is her study which has adapted the Collaborative Care Model to manage the Co-morbidity of depression and chronic Non Communicable diseases.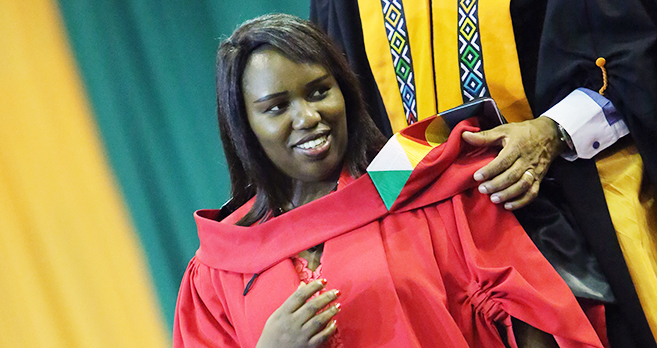 Dr Madeleine MUKESHIMANA
This Model is aimed to manage and care for patients who have this co-morbidity. Before Madeleine adapted this model to the Rwandan context ; patients with co-morbidity were being cared, managed separately, meaning these patients with different health conditions (depression and one or more chronic non communicable diseases) had to travel from one hospital for receiving treatment of one condition and then travel to another for the treatment of the other condition ; or unfortunately ; these patients could be cared only for the medical condition and are not aware of depression. This would results in different major health consequences including drug interactions ; high morbidity and mortality ; non-adherence to treatment and high financial costs.
All these problems will be resolved by the Collaborative Care Model adapted by Dr Madeleine Mukeshimana to the Rwandan context. Currently ; supported financially by University of Rwanda through Sida project and in partnership with RBC/Rwanda ; Madeleine is implementing this model in 8 Rwanda district hospitals and the aim is to implement this model in all Rwanda district hospitals.
Dr Madeleine is determined also to go beyond contributing to the improvement of quality care in Rwanda but also go extra miles to the region and beyond. It is in this context that from 10th to 12th May 2019 ; Dr Madeleine was presenting the "Adapted Collaborative Care Model to the Rwandan context" in the 2nd International Nursing and Midwifery Leadership conference, held in Accra, Ghana. She was financially supported by University of Rwanda trough Sida project to be able to travel and present this paper.
"It was my dream come true when I had chance to be financially supported by my University through Sida project to implement the Collaborative Care Model in Rwanda district hospitals and contribute to the improvement of quality care in my country ; but also again I am so much grateful to my University for allowing me financially to present this model to the 2nd international Nursing and Midwifery leadership conference held in Accra, Ghana ; where different policy makers, Health researchers from different countries have learned and appreciated the Collaborative Care Model" says Madeleine