Women at UR
Women at UR
From PhD studies to research grant winning : Dr Anne Marie Kagwesage and her journey as an established researcher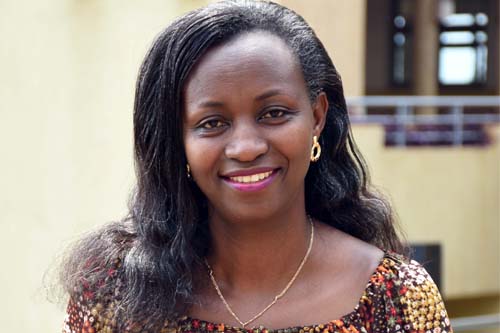 Dr Anne Marie Kagwesage is a Senior Lecturer in the College of Arts and Social Sciences-University of Rwanda. She completed her PhD studies in 2013 under the scholarship of UR-Sweden Programme. She is a complete researcher and many of her papers have informed decision making in the education sector. She also recently won a grant offered by the UR-Sweden Programme and she is now at the final stage of her research project "University Education and Women Empowerment".
Dr Kagwesage discusses that her PhD degree was the turning point in her career as an academic. The studies enabled her to get involved in research and presenting in various research conferences and seminars and most importantly networking with other researchers.
"I got to be trained further and open up my mind and I was able to meet the community of other researchers and scholars which ultimately enabled me to do authentic research" She said.
Her PhD Research was in the area of Teaching and Learning in Higher Education. Her research topic was on the Investigation of the use of a foreign language teaching and learning in higher education in Rwanda. Kagwesage admits that the findings of her PhD research findings have been very instrumental in informing the Universities on how to use the language of instruction without side-lining other native languages. According to her, the later also helps students to decode and grasp the content of subjects.
But again, as much as the language of instruction, which is a foreign language in Rwandan context might be problematic, she noted that it opens up viable opportunities for students.
"The language of instruction is also much appreciated by students as it opens up their horizons and opportunities to further their studies and be part of the larger community around the world" she said.
WINNER OF THE PROGRAM RESEARCH GRANT
UR-Sweden Programme has awarded research grants to UR academics whose projects qualify to advance the community wellbeing. Kagwesage has emerged as one of the grant winners of the project on "University education and women empowerment"
She investigated the impact of tertiary education to women who joined University at a later age following the decision of the Government Rwanda to provide easy access without discrimination.
"These people were denied access to education before, and after joining, no research has been concluded to find out what they gained as a result of joining the university" she observed.
The research looked at intellectual skills that mature women might have gained as a result of undertaking University studies, their voice, and influence at the workplace as well as their coexistence in the community. Findings showed that they were morally satisfied and highlighted a number of skills gained including being able to blend with young people and conversant with new technologies. The research also revealed that these women became role models in their communities for both young and elderly people. Kagwesage is pleased that her research is the biggest loud proof that women are able to undertake any level of education irrespective of their age. She is commending the Government initiative that empowered women and other marginalized groups to ensure that they can thrive in the society.
She witnesses that UR-Sweden programme has tremendously taken the research culture in Rwanda at a new level. She added that the programme has played a key role in the building capacity for the University staff while establishing networks for multi-disciplinary research teams.