The Data Science Council of America (DASCA) has internationally accredited the University Of Rwanda's African Centre of Excellence in Data Science (ACEDS) for offering different PhD and Masters programs in data science. This follows a rigorous evaluation of the modules taught and the teaching capacity of the Centre among other criteria.
The programs that are internationally recognised are PhD/ MSc in Data Science in Actuarial Sciences/ Data Mining/Econometrics and Biostatistics.
The Data Science Council of America (DASCA) is a USA-based institution which researches, designs, builds platform-independent Data Science knowledge frameworks, standards, and credentials, and certifies individuals entering or working across the spectrum of emerging Data Science professions.
Dr. Charles Ruranga, the Director of the Centre says this is one of the key milestones that the Centre achieves. "Being international accredited to offer these programs is an indicator that our programs meet international standards. This is one of the key milestones of our project that we were supposed to achieve and we are proud of this achievement", he says.
The ACEDS and DASCA are now leveraging this partnership to enhance professional employability of African technology talent and improve their technology research and development outcomes.
Under this framework, both institutions have launched the globally renowned Data Science certification programs of the Data Science Council of America (DASCA). These certifications which will be offered online include Associate Big Data Engineer (ABDE™), Senior Big Data Engineer (SBDE™), Associate Big Data Analyst (ABDA™), Senior Big Data Analyst (SBDA™), Senior Data Scientist (SDS™), and Principal Data Scientist (PDS™)
DASCA certifications are the world's most advanced cross-platform programs of their kind, and they address the career needs of ambitious African talents who wish to develop themselves into world-class Data Analysts, Data Engineers and Data Scientists.
These certifications help participants build a strong base of knowledge and skills on multiple tools, techniques, concepts and technologies, and in the process, equip them for an exciting breadth of roles and career opportunities that are available with a wide range of Data Science employers across verticals, environments and markets.
Participants are provided with the complete suite of learning and exam-preparation resources.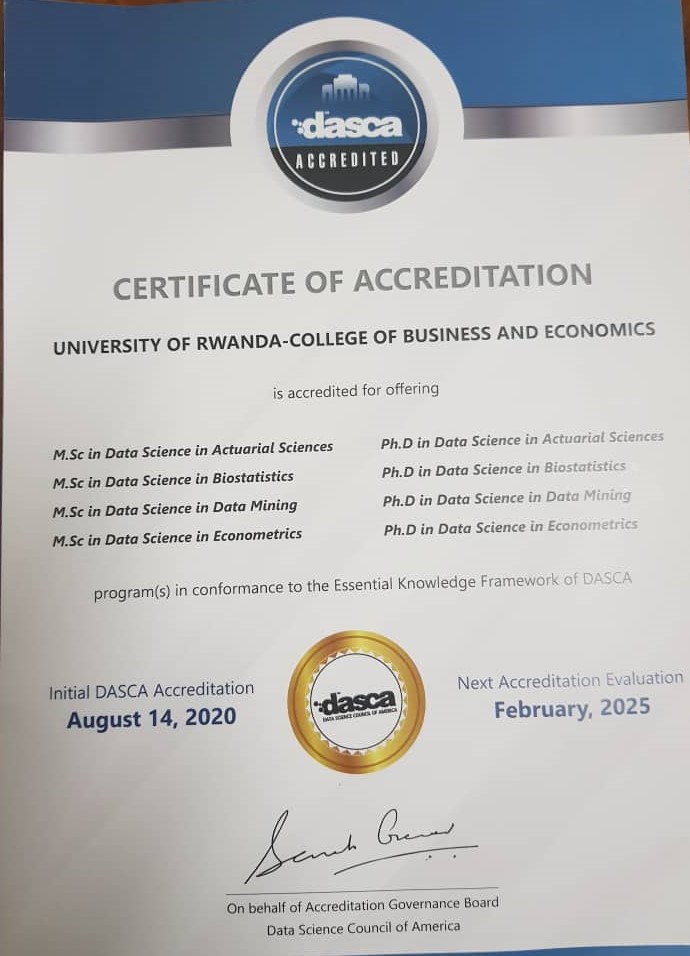 Story by
Jean Damascène NIYITEGEKA
Communication & Marketing Specialist
University of Rwanda
African Centers of Excellence Project (UR-ACEs)