The University of Rwanda (UR) has provided a framework to help its innovative entrepreneurs to work effectively through Centre for Innovation and Entrepreneurship (CIE). On 30th August 2019, the university students and staff with best innovation projects proved that they are ready to take their projects to a new level through the entrepreneurship workshop organized by the Centre. Innovation projects are operational under the funds of UR-Sweden Programme while University of Koblenz-Landau in Germany facilitated the workshop in terms of training.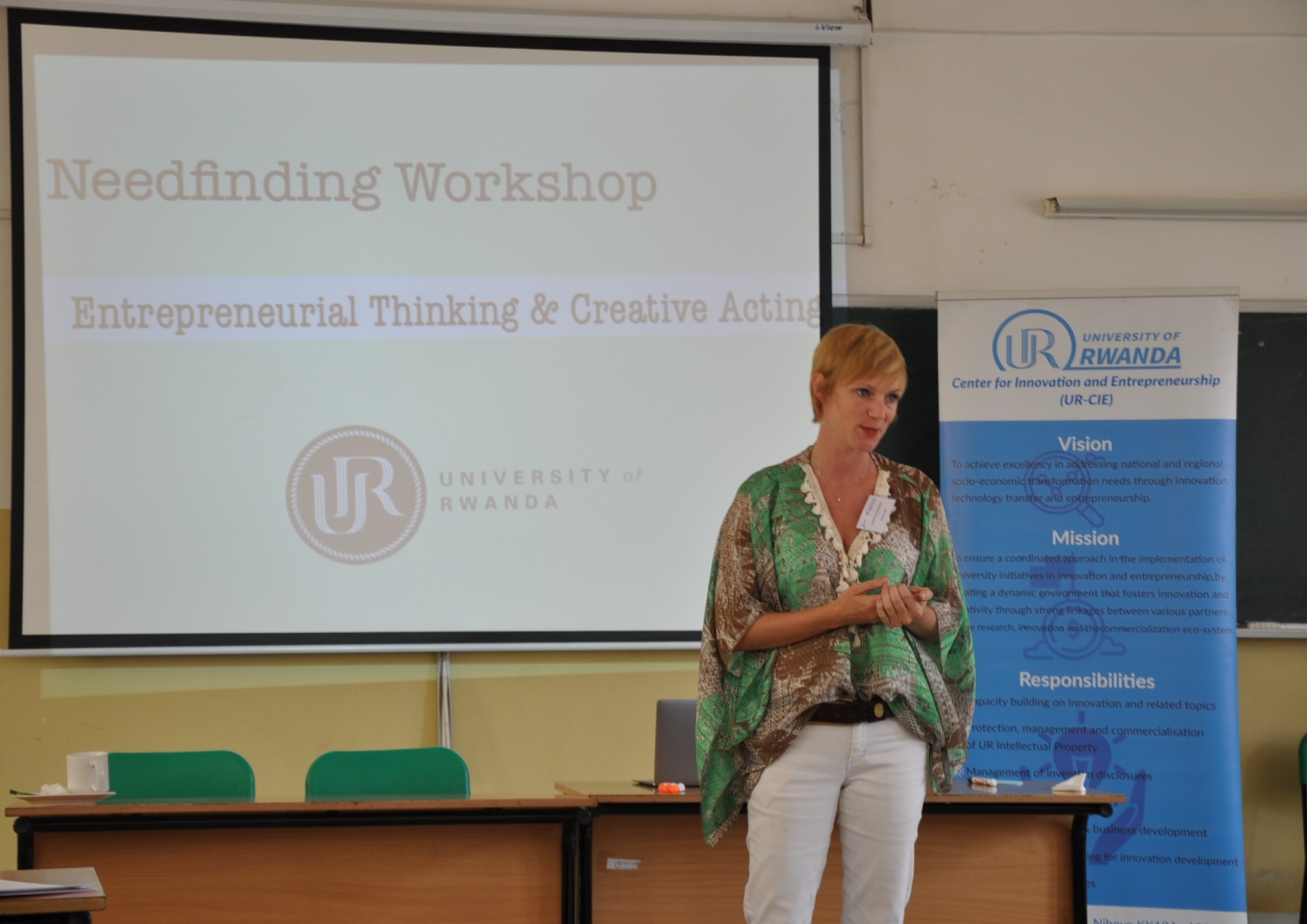 Dr isabel Creuznacher from University of Koblenz-Landau was among facilitators
The workshop was meant to help participants to keep improving their projects by finding consistent solutions to societal problems. Participants in the workshop said that they gained much from the workshop, which will make their projects sustainable. In the course of the workshop, participants witnessed that the workshop was an eye opener to challenges that could disrupt their projects and they figured out ways to address them.
Aloysie Uwizeyemariya is a member of the project titled "Language Skills and Literacy Development Support to Science, Technology, Engineering and Mathematics (STEM) Promotion in Rwanda". She witnessed some dividends of the workshop as she gained vital knowledge, which is beneficial to their project.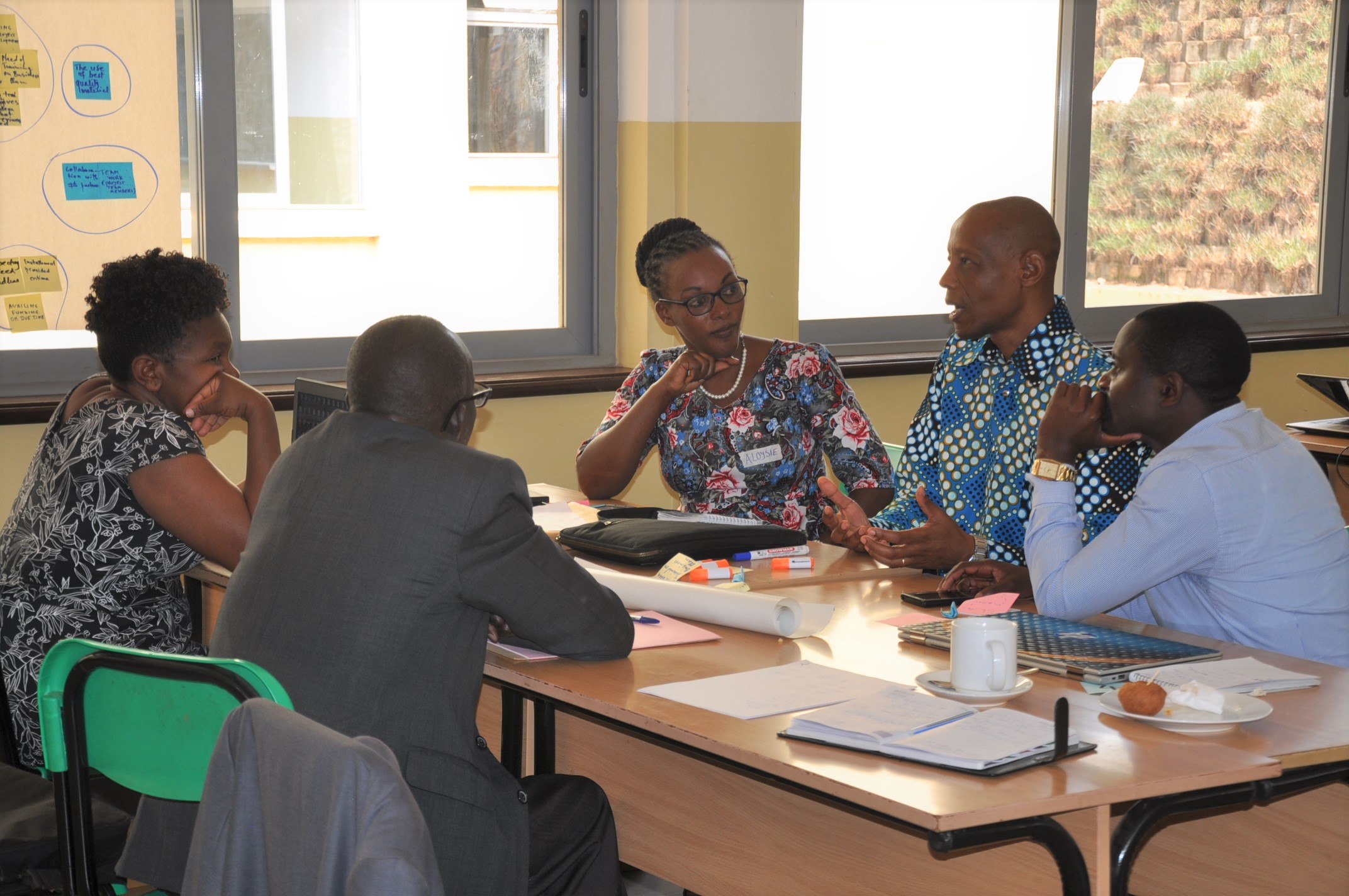 Aloysie Uwizeyemariya (3rd) during group discussions
"We need to have skills beyond project development because in our team we have challenges in accessing funding and skills in both business and financial management. I learn that we are able to find ways to bridge the gap," she said.
Adding to the good result of the seminar, Noël Nizeyimana Chief Executive Officer of Green Rwanda ltd based at Huye said that the event helped him learn more about management and networking. He further revealed that he is going back with package of mitigation majors to overcome challenges that his company is facing.
Speaking to UR Communication Department, Emile Bienvenu the Director for UR Centre for Innovation and Entrepreneurship (CIE) believes that the workshop created innovative solutions to identify the problems that are faced by communities.
"The workshop intends to help them creating employment opportunities for the society by finding means and ways of using generated innovation in making business that respond to beneficiaries' needs." He said.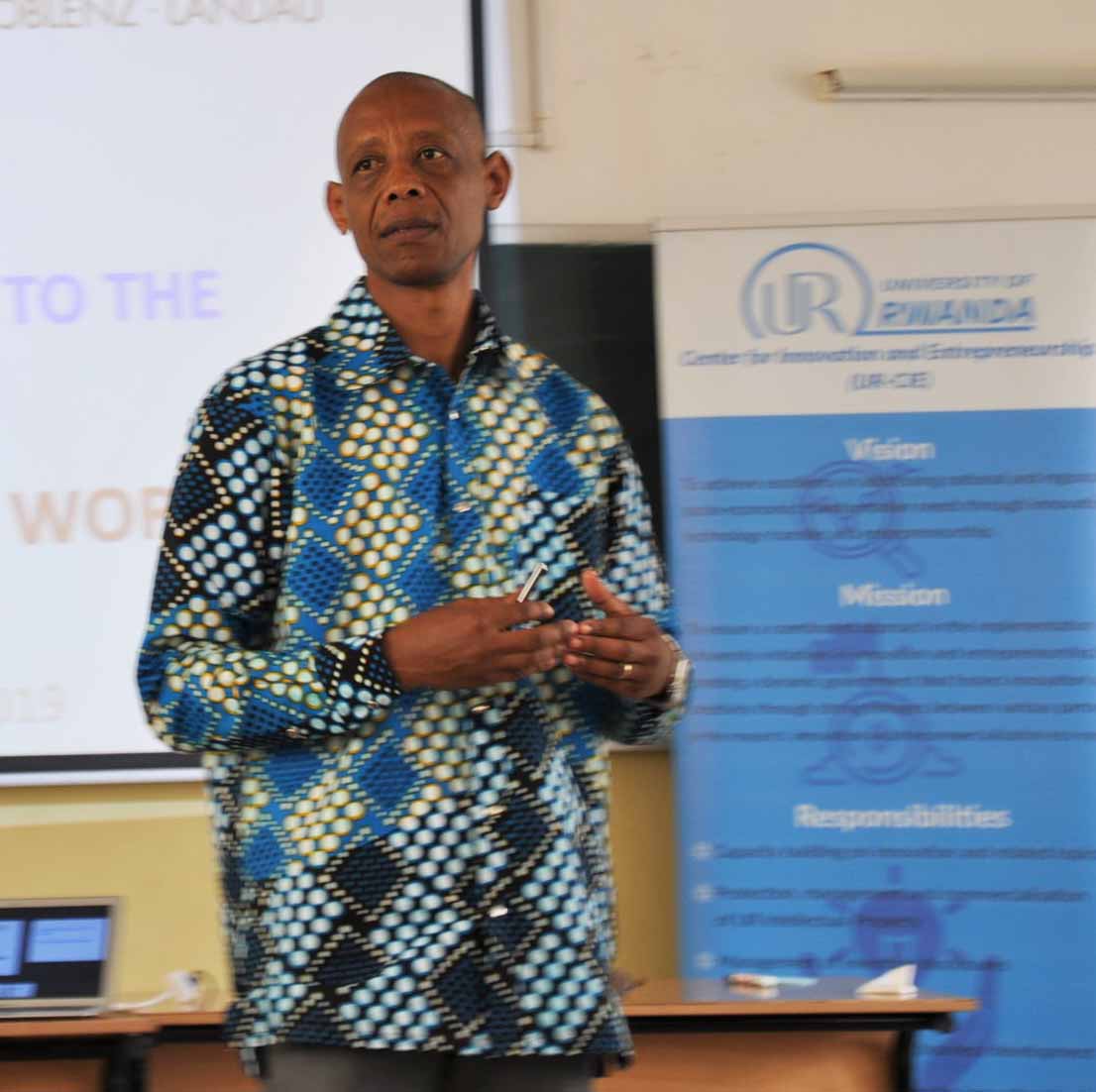 Emile Bienvenu the Director for UR Centre for Innovation and Entrepreneurship during the workshop
Emile recommends the university society that they should shift from traditional research to business related research. According to him, innovative research yields good results in solving problems of the society.
The workshop was conducted in groups where participants were able to share their experiences and challenges to find joint solutions.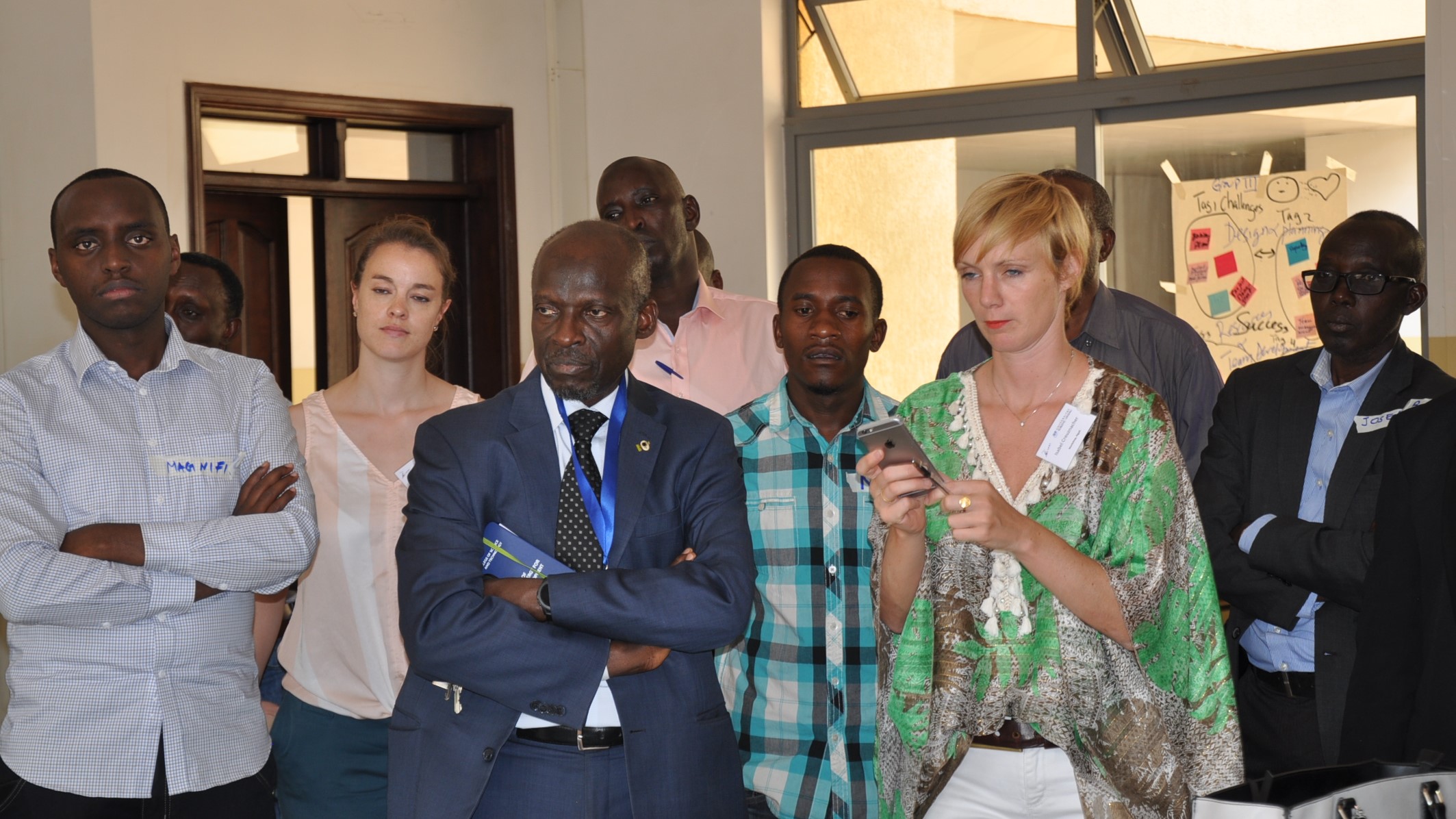 Prof Nelson Ijumba (2nd), UR DVC for Academic Affairs and Research joined participants in the workshop
So far 12 best innovation projects were selected among 29 that were in competition during the last year launch of the call for proposals. The UR research committee is the one that assess the best proposals where they get the fund from Centre for Innovation and Entrepreneurship.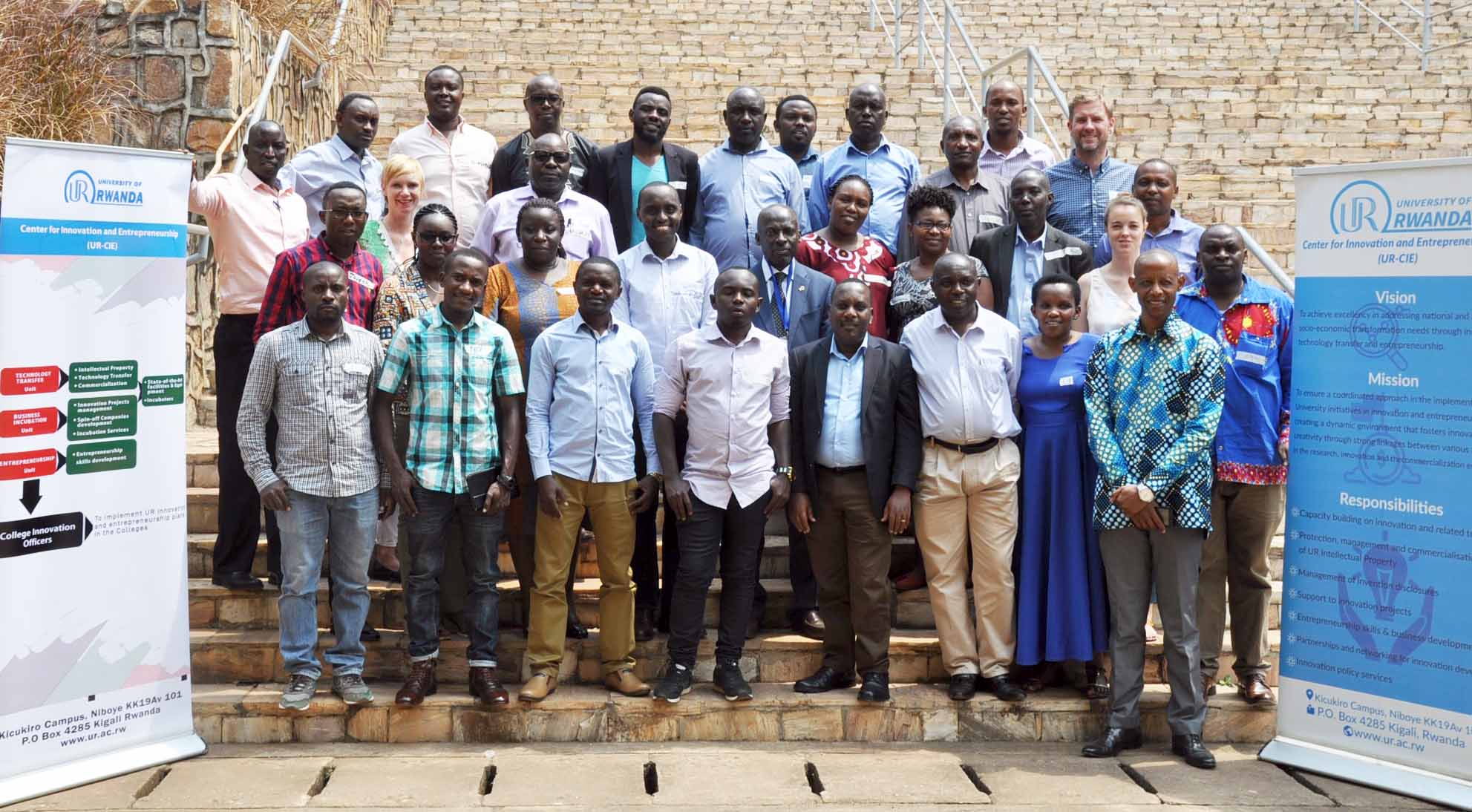 Workshop participants pose for group photo
Story by
Gerard Kankiriho
An intern from UR School of Journalism and Communication